August 11, 2015
from AltHealthWorks Website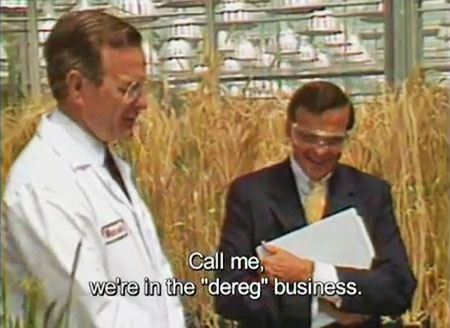 George Bush Sr.,
seen here at Monsanto's HQ in 1987,
had a lax attitude toward the "bureaucratic and safety hurdles"
facing the company's GMO crops.
Rare Footage Shows George Bush's 1987 Visit to Monsanto

Proponents of genetically engineered crops would have you believe that we've been "modifying" foods for "thousands of years."

But the truth is that these lab-created GMOs are far different from traditional hybrid crops and have only been around for a few decades. And if not for intense lobbying on the part of St. Louis agrochemical giant Monsanto, GMOs might have never even seen the light of day in the United States.

In 1986, with countless millions at stake, four executives from the Monsanto Company paid a White House visit to then-Vice President named George H.W. Bush with the goal of gaining an important ally in Washington.

Monsanto wanted to secure its spot on the "dereg - deregulation" bandwagon being driven by the Reagan administration at the time.

One year later, Bush took the bait and paid a visit to the company's headquarters for a media event that included personal time with company scientists and reps.

Monsanto's reps wanted Bush to help them get their dangerously untested GMOs to market, and pleaded with him (see the video below) to help make it happen.

What Bush said in response gave rise to a culture of blissful ignorance and irresponsibility that allowed Monsanto's controversial "frankencrops" to spread virtually unopposed ever since.




George Bush to Desperate Monsanto: "Call Me…"

With countless safety and regulatory hurdles to overcome, the Monsanto Company found itself in a tough position in 1987.
They desperately wanted to begin testing their GMO crops outdoors but needed the go-ahead from Washington to do it.

Originally Monsanto planned to introduce their GMOs slowly, but grew frustrated and instead opted for an aggressive policy of,
"eliminating what White House hardliners called 'bureaucratic hurdles' like health and environmental safety testing which were Monsanto's key problems,"
...as narrator and director Marie-Monique Robin notes in the video clip below from the movie 'The World According to Monsanto.'

In the clip, Bush meets with Monsanto reps as press cameras flash in the background.
One scientist explains the basics of how these GMO "foods" are created.
"…We take DNA, cut it apart, mix different pieces together and then rejoin them, splice them back together," he says. "This tube contains DNA that was made from a bacterium…"
Bush responds with a question:
"This will lead you have a stronger plant or a plant that will lead you to…?"

"In this case it resists the herbicide," the Monsanto rep says.
Another rep adds on,
"We have a 'fabulous' herbicide."
He was of course speaking about Roundup, the product whose main component glyphosate was just declared a "probable human carcinogen" by the World Health Organization.

Later in the clip, you'll see Bush laugh and utter the seven infamous words ("Call Me…") that gave rise to an era of total freedom for the GMO industry at the expense of the consumer.

Bush would eventually become president; watch at the end as his own VP Dan Quatle reveals the real reason why GMOs were fast-tracked in the United States even though other countries are still banning them.

Watch below, and feel free to share with a friend to expose the truth: