from RoadSideAmerica Website


The Old World structure most frequently rebuilt in the New World isn't the romantic Tower of Pisa or the lovely Parthenon. It's clunky old Stonehenge. It's easy to build.

Sam Hill's Stonehenge
Maryhill, Washington

The most dramatic Stonehenge stands on a lonely bluff overlooking the Columbia River south of Goldendale. Sam Hill's Stonehenge was planned by Hill, a legendary road-builder, as a memorial to the WWI dead of Klickitat County. It originally stood at the center of Sam Hill's town of Maryhill, but Hill neglected to put in a water system and everything burned down except the Stonehenge.
The monument was dedicated in 1918 but it wasn't finished until twelve years later. Sam Hill was by then in a "manic state" and short on cash. He died in 1931, living just long enough to see his Stonehenge completed. He is buried at the base of the bluff, but there is no easy path to his grave because he wanted to be left alone.


More about Sam Hill's Stonehenge

In Maryhill, Washington, on a plateau high above the Columbia River, stands Stonehenge. This full-sized replica is complete, the way the pagan Druids would have wanted their original to look. Road-builder Sam Hill finished Stonehenge in 1930, dedicated to the World War I dead of Klickitat County.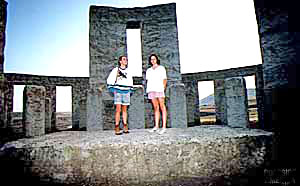 At dusk, these lone teens drink in monolithic vibes of the ceremonial altar stone,
and hope to experience Stonehenge's energy in the raw -- after the travel writers go away . . .

It is a stark concrete vision, made more easily memorable by the gift shop that has been erected nearby. Sunset visitors can still drive doughnuts in front of the monolith - the way the Druids would have wanted it.


The Georgia Guidestones
Nuberg, Georgia

The Georgia Guidestones south of Nuberg, stand on a windswept hilltop -- six granite slabs, each nineteen feet tall. They were erected in 1980 by a mysterious man named R.C. Christian and "a small group of Americans who seek the Age of Reason."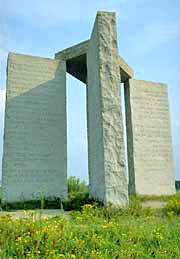 Georgia Guidestones in Nuberg
On the upright slabs, carved in twelve different languages (including Swahili and Sanskrit), are ten laws encouraging readers to "unite humanity," " guide reproduction wisely," and "avoid useless officials." The Guidestones warn, "Be not a cancer on the Earth!"


Stonehenge II
Kerrville, Texas

West of Kerrville, Doug Hill has built Stonehenge II, claimed to be 60 percent as large as the original, and 90 percent large in circumference. The area is infested with fire ants, so if you lie down on the sacrificial altar for photos, move quickly. An added bonus: nearby Easter Island statue heads.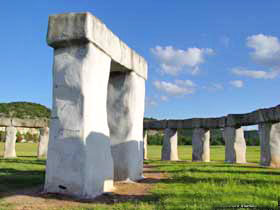 Stonehenge II

Stubby Stonehenge
Rolla, Missouri

Stubby Stonehenge at the University of Missouri at Rolla was built to showcase the stone carving capabilities of its High Pressure Water Jet Lab. According to its designer, this Stonehenge is "accurate to within 15 seconds" when used as a clock.

More about Stubby Stonehenge
A very little bit of Druid Europe exists in sweltering south-central Missouri, on historic Route 66. This half-sized Stonehenge replica was built by the high- pressure water lab at University of Missouri's Rolla campus as a way to showcase their stone carving skills.
"In ancient times, carving these stones would have taken years," a plaque explains. "These stones were carved in a month."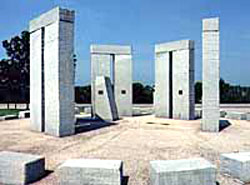 Stonehenge wasn't built in a month,
but this stubby Stonehenge at the University of Missouri's Rolla campus was.
Rolla boasts that its Stonehenge is the only one in America that can be accurately used as a clock.

Subdivision Stonehenge
Athens, Georgia

A Stonehenge stood at the entrance to a failed subdivision in Athens, Georgia, at the intersection of GA 29 and 78. The words "STONE HENGE" are engraved across a balanced stone. This wasn't a very accurate replica, was frequented by drug dealers, and at last report had been moved to a more hospitable spot down the road toward Cagney...


America's Stonehenge
North Salem, New Hampshire

"America's Stonehenge" in North Salem, doesn't look anything like its namesake, but it is the only Stonehenge site in America that claims to have spooky powers, astronomically configured rocks, and rumors of human sacrifice. Was it built by the ancients in 2000 BC? Or maybe renegade Irish monks in the year 1000? Or crazed farmers with nothing better to do in the 18th century?
This jumble of rocks originally promoted itself as "Mystery Hill" but too many tourists showed up wanting to see their cars defy gravity.


Carhenge
Alliance, Nebraska

There was a time when the residents of Alliance, wanted to tear down Carhenge and the Nebraska Department of Highways wanted to label it a "junkyard" and build a big fence around it. Not any more! Now signs on the outskirts of town proudly identify Alliance as the "Home of Carhenge" as does the sign in front of the local Best Western. A gift shop down the road proclaims, "We sell Carhenge souvenirs."

Carhenge was erected in the middle of a dusty field by six local families during a reunion in 1987. The cars have since been painted a uniform grey to make the monument even more striking.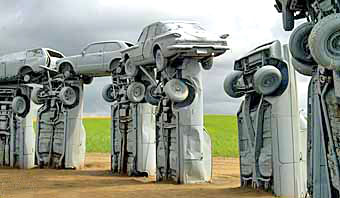 Carhenge, Alliance, Nebraska
According to the Carhenge's self-appointed caretaker, only about 40% of the people who visit know about the original Stonehenge. "We get a lot of remarks like, 'What the hell is this?' in our comments box," he sighs. "But the people come from all over just the same."

In the wake of Carhenge, anything goes, as evidenced by the first refrigerator Stonehenge under construction in northwest Santa Fe, NM. About 200 refrigerators are arranged in a dusty field as Stonefridge. The explanatory sketch on the fence reads: "From the Stone Age to the Appliance Age." It appears to be partly completed; the array of refrigerators will be stacked and combined into full size monoliths, with cross pieces, and astronomically configured. The artist, Adam Jonas Horowitz, is creating a "monument to consumerism," though he's been at since at least 1996, stymied at points by need for city approval and structural safeguards.

---
(The Georgia Guidestones: GA 77, Nuberg, GA [Show Map] Directions: From Elberton travel north on Highway 77 for 8.7 miles (toward Hartwell). The Guidestones are visible on the right, a short distance from the road. Hours: Daylight hours.)


(Stubby Stonehenge: Rolla, MO [Show Map] Directions: I-44 exit onto Hwy 72 (N. Bishop Ave.). South to 14th St. On the corner of Hwy 72 and 14th St., outside the Mines & Metallurgy Building on the University of Missouri campus.)


(Carhenge: ND 87, Alliance, NE [Show Map] Directions: Hwy 87, two miles north of town. Admission: Free. Hours: Daylight hours. Phone: 308-762-1520)


(America's Stonehenge: 105 Haverhill Road, North Salem, NH [Show Map] Directions: I-93 exit 3. Follow Rt. 111 east for 4.5 miles. Watch for America's Stonehenge sign just past the North Salem Village Shops. Turn right at the intersection with the traffic light (Mobil Gas on your left). Follow this road for 1 mile. Entrance on right. Hours: Daily 9 am - 4:30 pm (later during some seasons). Phone: 603-893-8300)


(Stonehenge II and Easter Island Heads: FM 1340, Hunt - Kerrville, TX [Show Map] Directions: 60 mi. W of San Antonio. I-10 exit 506, Hwy 39 to Hunt, two miles west of Hunt on Farm Road 1340, between Hunt and Kerrville. Hours: Daylight hours.)


(Foamhenge: Hwy 11 South, Natural Bridge, VA [Show Map] Directions: I-81 exit 180. On a bluff set back from the southbound side of Hwy 11, just south of the Natural Bridge Petting Zoo, one mile north of Natural Bridge. You need to be driving southbound to see it. Hours: Daylight Phone: 800-533-1410)


(Sam Hill's Stonehenge: Maryhill, WA [Show Map] Directions: I-84 exit 104, cross the Columbia River on the US 97 Sam Hill Memorial Bridge, then up the hill. Right on Hwy 14, then right on Stonehenge Drive. Admission: Free. Hours: Daylight hours. Phone: 509-773-3733)

( Sam Hill's Stonehenge: Hwy. 14 east of U.S. 97, along the Columbia River. Leave I-84 at Bigg's Junction, cross the Hwy. 97 Sam Hill Memorial Bridge, go uphill to Hwy. 14. Turn right, watch for access road to Stonehenge.)


( The Georgia Guidestones: GA 77, 2 miles south of Nuberg)


( Stonehenge II: 15 miles W of Kerrville on FM 1340)


( Stubby Stonehenge: I-44 exit 186, U.S. 63 south less than a mile)


( America's Stonehenge: I-93 exit 3, Hwy. 111 east five miles to Haverhill Rd., follow Haverhill south)


( Carhenge: Nebraska Route 87, 2 miles north of Alliance.
---

May 2004: Two new Stonehenges have sprouted -- In northwest Montana near the town of Fortine, some rich people have commissioned the construction of a very accurate Stonehenge as part of a private golf course. In Odessa, Texas, University of Texas of the Permian Basin will have its own Stonehenge this summer, full-width, 70% height, and astronomically correct.

The stacking of refrigerators in Santa Fe, NM has begun.

April 2004: Sculptor Mark Cline unveils his replica Stonehenge in foam -- Foamhenge. Foamhenge is located on the west side of Rt. 11 near the Natural Bridge Zoo, 1 mile north of Natural Bridge, Virginia.