by Linda Moulton Howe
2006
from EarthFiles Website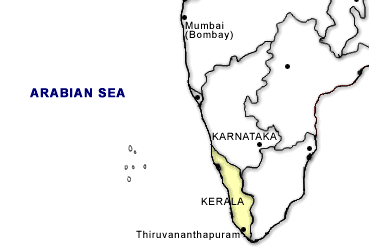 South of Bombay, the state of Kerala, India, is in the southwestern tip
of the country bordered on the west by the Arabian Sea. Its capital is
Thiruvananthapuram. Map © by mapsofindia.com.

June 15, 2006 Cardiff, Wales, U. K.
- There was a most provocative title in the April 4, 2006, journal Astrophysics and Space Science. It reads:
"The Red Rain Phenomenon of Kerala and Its Possible Extraterrestrial Origin."
Kerala is called "God's own country" and is situated on the Malabar Coast in southwestern India. Besides attracting tourists to its beautiful beaches and lush trees where exotic wildlife live, the land supports companies which grow tea, coffee, rubber, cashew, pepper, cardamom, vanilla, nutmeg and cinnamon.

Five years ago in July to September 2001, several red-colored rains fell over Kerala. Before the first of several rains over two months, people said they heard a loud boom. Then red rain fell and stained white T-shirts. Residents wondered what was happening? News of the red rain mystery reached Dr. Godfrey Louis, a Professor of Pure and Applied Physics at Mahatma Gandhi University in the city of Kottayam in the state of Kerala. He collected many test tubes full of the red-colored rain water and put some of the odd liquid under a microscope.

He told me by phone in early June that when he first saw the red rain magnified, he was struck by the beautiful rust color of what seemed to be living cells. The cell diameters averaged 10 microns, a little bigger than a human blood cell which is about 7 microns.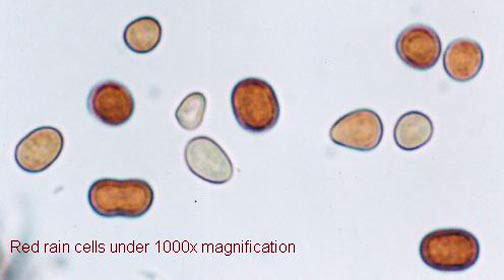 Red adult "mother" cells and clear, or white, "daughter" cells in Kerala red rain water,
magnified under a microscope by a power of 1000. Average size of Kerala red rain cells are 10 microns.
Compare to normal red blood cells below, which average 7 microns in diameter. Photomicrograph
© 2006 by Louis Godfrey, Ph.D., Mahatma Ghandi University, India.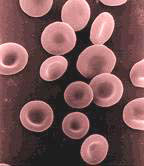 Normal vertebrate erythrocytes, or red blood cells,
average 7 microns in diameter. Photomicrograph courtesy Wikipedia.

[Editor's Note:
Wikipedia: "Red blood cells are the most common type of blood cell and are the vertebrate body's principal means of delivering oxygen from the lungs or gills to body tissues via the blood. Red blood cells are also known as RBCs or erythrocytes (from Greek erythros for "red" and kytos for "hollow", with cyte nowadays translated as "cell").

Vertebrate erythrocytes consist mainly of hemoglobin, a complex molecule containing heme groups whose iron atoms temporarily link to oxygen molecules in the lungs or gills and release them throughout the body. Hemoglobin also carries some of the waste product carbon dioxide back from the tissues. (In humans, less than 2% of the total oxygen, and most of the carbon dioxide, are held in solution in the blood plasma). A related compound, myoglobin, acts to store oxygen in muscle cells.

The color of erythrocytes is due to the heme group of hemoglobin. The blood plasma is straw-colored alone, but the red blood cells change colors due to the state of the hemoglobin: when combined with oxygen the resulting oxyhemoglobin is scarlet and when oxygen has been released, the resulting deoxyhemoglobin is darker, appearing bluish through the blood vessel walls. The keeping of oxygen-binding proteins in cells (rather than having them dissolved in body fluid) was an important step in the evolution of vertebrates; it allows for less viscous blood and longer transport ways of oxygen."]

Temperature and Pressure Experimentation with Red Rain Cells

Over several months, Dr. Louis began experimenting with different temperatures to see if the cells would respond.
As the temperature rose, he saw more activity. Eventually he got up to 300 degrees Celsius, which is about 600 degrees Fahrenheit. He also increased the pressure to 300 pounds per square centimeter. It is assumed that normal Earth life would die at such a high temperature and pressure.
But the red-walled cells in the Kerala rain water seemed to thrive.



No DNA?

During his experimentation with temperatures and pressures, Dr. Louis studied the cells under a microscope.
As he watched, the cells produced smaller cells internally that were colorless, or whitish. He began calling those new, little cells "daughters" of the original "mother" cells. Once he counted as many as fifteen daughter cells bud inside one of the adult "mother cells."
As the daughter cells grew, their cell walls also became red and eventually, the daughter cells erupted through the wall of the mother cell. This is clearly a process of replication. In normal Earth biology, replication of cell life requires the presence of DNA. But Dr. Louis could not find evidence of DNA in the proliferating cells inside his test tubes.

The controversy he knew would be provoked if he reported living cells that had no DNA, he told me recently, is why he kept his research of the red Kerala rain water to himself. But in January of 2006, he contacted the respected astrophysicist and astrobiologist, Chandra Wickramasinghe at Cardiff University in Wales. Soon Dr. Wickramasinghe had some vials of the red rain water to study. Dr. Wickramasinghe also sent some of the vials to biologists at Sheffield University in England.
And Dr. Louis sent more of the red rain water to scientists at Cornell University in the United States for isotopic ratio studies of the elemental composition of the red rain water. Elements confirmed so far are hydrogen, silicon, oxygen, carbon, and aluminum. The search is now on for phosphorous, which must be present if there is DNA. Scientists are also looking for definitive proof that there is – or is not – DNA in the mysterious replicating cells from the Kerala red rain.

This week I talked with Dr. Chandra Wickramasinghe at his Cardiff University laboratory. Dr. Wickramasinghe specialized in the study of interstellar dust during his Ph.D. and S.C.D. work at Cambridge University in England. He is now Professor of Applied Mathematics and Astronomy and Director of the Cardiff Centre for Astrobiology at Cardiff University in Cardiff, Wales, U.K.
I asked him if he agreed with Dr. Godfrey Louis that the red rain cells are a totally new extraterrestrial life form?
---

Interview

Chandra Wickramasinghe, Ph.D. and S.C.D., Cambridge University, Prof. of Applied Math and Astronomy and Director of the Cardiff Centre for Astrobiology, Cardiff University, Cardiff, Wales, U.K.
"We still have many mysteries that have to be resolved. I don't know how they will be resolved. So far, there is no question that these are biological cells. That is something that was queried by some people who thought it might be artifacts of some kind. But they certainly have all the characteristics of biological cells. They have cell walls; they have some evidence of replication. Within the "mother" thick-walled cells, there are "daughter" cells being produced. We have so far not been able to definitely say whether there is DNA or not, which is very interesting.

So, my position at the moment is still one of some puzzlement because I have no doubt that the rain fell from the skies. I have just returned from Kerala, India, for a short visit to talk with Godfrey Louis and his collaborators. I'm more convinced now there really was an important natural event that has to be explained.

In this instance, there are thousands of tons of biological material that was involved in just the small area of Kerala. It's not clear how much more extensive that region of rainfall was. For instance, if it extended westward from Kerala, you have the Indian Ocean and then all the way to the Sahara. So you might have a huge area that was involved with this red rain.



COULD I ASK FOR CLARIFICATION? DO YOU MEAN THAT IF YOU PUT TOGETHER ALL OF THE RED CELLS IN THE WATER THAT WAS DESCRIBED AS FALLING OVER A COUPLE OF MONTHS THAT THERE WOULD BE TONS OF THIS?

There would be hundreds of tons at minimum. So, think of lifting that kind of tonnage of material from the Earth, it's not very easy to understand how that could have happened.

One of the theories that has not really been substantiated in any significant way was that this red rain consisted of lichen blown off the trees in and around Kerala and went into the sky and fell down over the region. Now, we've got samples of the lichen. I brought with me (back to Cardiff) samples of the lichen and my students are analyzing the lichen situation, comparing the lichen spores with the red rain, and it does not seem to be near the red rain in appearance and characteristics.
Cardiff University Microscope Images of Kerala Red Rain Cells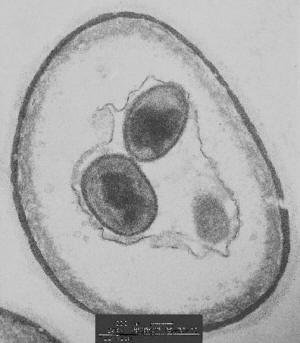 This photomicrograph (scale bar is 300 nanometers) shows "a cell with shrunken membrane containing
'daughters' - two have well-defined cell walls, while the third (paler) structure (lower right) might be a further
daughter in the process of development." Photomicrograph courtesy Cardiff University.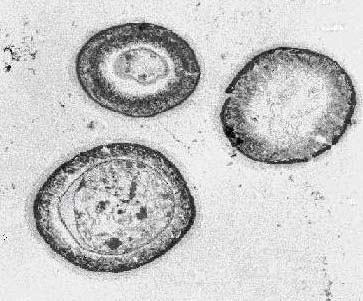 Three Kerala red rain cells "about 3 micrometers in diameter, with thick cell walls
and a variety of nanostructures within a membrane, but with no identifiable nucleus. Apparent
holes in the cell wall are real. The cell on the right has larger holes and might have lost
its cytoplasm." Photomicrograph courtesy Cardiff University.

Comparison to Yeast Cells

[Editor's Note: Earthlink.net reports about yeast cell replication: "Cell Separation (Budding) in Yeast Cells. The cell core migrates to the cell wall of the yeast cell. It splits up and forms a daughter cell. The daughter cell multiplies in the same way while it is still growing and tied to the mother cell. A colony develops. Later, the daughter cell separates from the mother cell. The multiplication process continues for as long as the conditions for multiplication are present.
This is depicted in Figure 2. As can be seen, a parent cell grows a protuberance, this swells as the bud forms, a neck develops between the parent cell and the bud, and they separate. The process starts again and, in ideal conditions, a cell can reproduce itself in 20 minutes so that numbers increase from one to two, then to four, to eight, to 16, and so on. If the numbers are plotted on a graph, the line would take an exponential form."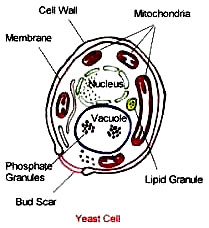 "Sporulation Spores form once the nutrients of a solution are used up. The yeast becomes dormant and feeds on its reserve material. When the nutrient solution and the yeast cells dry out, the cell core separates and forms spores. The spores are insensitive to heat and cold. The slightest breeze carries them anywhere. Under dry conditions, the spores can live forever. When spores fall into a nutrient solution, they germinate into yeast cells. Each yeast cell can give rise to four spores."]

WOULDN'T YEAST AND LICHEN HAVE OBSERVABLE AND IDENTIFIABLE DNA?

They certainly would and it's very easy to locate the DNA and to amplify it. We haven't done that yet. We need to amplify the lichen DNA and try again to amplify DNA, which I think has to exist in these red cells and find some similarities or dissimilarities.



I DID TALK WITH DR. LOUIS A WEEK AGO. HE SEEMS TO BE RELATIVELY DEFINITE THAT THERE IS NO DNA AND THAT HE IS DEALING WITH A COMPLETELY NEW KIND OF REPLICATION THAT HE DOES REFER TO AS 'EXTRATERRESTRIAL,' INCLUDING THE 'MOTHER CELLS' IN WHICH THEY DOCUMENTED WHAT HE CALLS THE 'DAUGHTER CELLS.' HE SAYS AS MANY AS 15 DAUGHTER CELLS IN ONE MOTHER CELL HAVE EMERGED.

Yes, we have substantiated that statement. There is already a replication cycle in the whole sample we have. There are some cells that have two or three daughter cells. Some have more than that.

What I have to conclude at the moment is that I'm not sure his claims for no DNA will hold up to rigorous scrutiny. He likes to think there is no DNA and one of the arguments is that his own replication experiments was carried out under high pressure at 300 degrees Celsius. At that temperature normally, you would not expect any fragile molecule like DNA to survive.

But I explained to him (Dr. Godfrey Louis) and I think he's aware of this, that the combination of high temperature and very high pressure would prevent the break up of even a fragile molecule.

Implication If No DNA in Kerala Red Rain Cells?
IF THERE IS NO DNA IN ALL OF THE RED RAIN CELLS, THEN IT MEANS THAT YOU HAVE SOME FORM OF REPLICATING LIFE THAT IS NOT UNDERSTOOD AT ALL?

Absolutely! That I find very – if that's the case, it's very exciting. But as far as we know, all life depends on DNA. There has to be some pattern-holding template in life because replications mean that patterns are held.



BUT ISN'T DNA ONLY KNOWN ON THE EARTH AND WE COULD BE DEALING WITH EXTRATERRESTRIAL LIFE THAT HAS A COMPLETELY DIFFERENT METABOLISM AND PROCESS OF REPLICATION?

If that is the case, then it's amazing that these cells look so close to a living terrestrial cell. They have all the trappings of terrestrial cells – cell walls and there is slime around them, which is no doubt proteinaceous. There are certainly proteins in the cells. So the proteins have to be coded in some way. There is no known mechanism that we have on the Earth in terrestrial biology for coding proteins except with DNA.



HAVE YOU BEEN ABLE TO IDENTIFY WHAT MAKES THE CELLS RED WHEN THEY ARE RED?

No, we haven't. We've looked, but it's not a heme-related blood would be the obvious thing to go for and look for a heme-related molecule and we haven't found that. It is a pigment of some kind and we have not gone as far as identifying the pigment.



SO, RIGHT NOW EVEN THE RED COLOR IN THE CELLS IS UNIDENTIFIED?

Unidentified, yes.

Are Kerala Red Rain Cells More Active in High Temperatures and Pressures?
DR. GODFREY SAID THAT WHEN THE WATER WAS COLLECTED AND HE WAS LOOKING IN HIS LAB ORIGINALLY, THE 'MOTHER CELLS' THAT HAD THE RED WALLS WERE VERY QUIET AND STILL. IT WAS ONLY WHEN THEY BEGAN EXPERIMENTING WITH DIFFERENT TEMPERATURES, THAT THEY BEGAN TO GET THE ODD REPLICATION ACTIVITY, WHICH HE SAID WOULD ONLY BEGIN AT 300 DEGREES CENTIGRADE, WHICH IS ABOUT 600 DEGREES FAHRENHEIT. THAT IS A TEMPERATURE AT WHICH NO EARTH LIFE THAT WE KNOW WOULD SURVIVE TO REPLICATE AT 600 DEGREES F. HAVE YOU BEEN ABLE TO REPRODUCE THAT DATA?

No, we haven't been able to reproduce that. We are trying to get some equipment to try. He certainly is right in saying that there is no known replication cycle that's been discovered for Earth organisms that can live at 600 degrees F. 300 degrees Celsius. But no one knows what Earth organisms would do if you put them at pressures of, I think, 300 atmospheres and 300 degrees Celsius. That's an open question as to whether microorganisms could survive at very high temperatures and very high pressures.

But I have to say that the replication happening only at 300 degrees F. supposes a difficulty for me because I have seen in our laboratories, his red rain cells already in a variety of states of replication, of potential replication. There are cells without daughter cells. There are cells that have one, two, three, four, five daughter cells. And there are cells that appear to be in the process of erupting and unleashing the contents of the progeny (daughter cells.) So where did this replication take place? It certainly didn't happen here, we didn't put it under 300 degrees C. in the laboratory or high pressure. So, that replication has been happening somewhere.

And my present thoughts on this are that there was an injection of extraterrestrial microorganisms that took place at the time of the first sonic boom, when it was over Kerala. There was a small fragment of comet carrying microorganisms that were unleashed into the clouds (by the explosion in the troposphere). But these microorganisms then had to undergo some kind of replication cycle in the clouds, inside the terrestrial clouds, with nutrients from the Earth, lifted up from the trees or whatever. This had to continue for at least four or more weeks at least.



WHAT YOU ARE SAYING IS THAT THE TEMPERATURES THEN WOULD NOT BE AS HIGH AS 300 DEGREES C. THERE. AND IN YOUR LABORATORY, YOU HAVE SEEN THIS REPLICATION GOING ON AT NORMAL ROOM TEMPERATURE?

Yes, replication taking place at a very, very slow rate. The fact that we cannot see it happening over a short time period does not mean it is not happening. These red rain samples we have, have been in little tubes for nearly 5 years! Very slow replication might be taking place in the rainwater that is contained in these vials that Godfrey Louis has given us.



IF THEY HAD BEGUN IN AN EXPLOSION OF COMETARY MATERIAL IN THE TROPOSPHERE AND THEN THERE WAS REPLICATION IN THE CLOUDS, THE TEMPERATURE THERE WOULD NOT BE AT 300 DEGREES CELSIUS?

The temperature in the clouds could vary. In the region above the troposphere, it could go to very high temperatures. In the troposphere, the temperatures are not much above the boiling point of water (212 degrees F.) generally. So, you get a range of temperature conditions, but certainly not 300 degrees Celsius and at high pressure.



YOU ARE SAYING THERE IS STILL REPLICATION OF MOTHER CELLS TO DAUGHTER CELLS THAT COME OUT AT LOWER TEMPERATURES AND PRESSURES?

I've got to make that case because I find the cells in the vials are alive. They respond to stimuli in the sense that if you put them near stains biologists have used to determine the viability of the cells and these are viable cells. They have very fragile structures within them that could not – if they were just lying around without metabolizing for five years, and then they would be dead. So, there is an exchange of material between the rainwater and the nutrients in the rainwater and the cells taking place within the test tubes, I think.

Are Kerala Red Rain Cells A New Extraterrestrial Life Form?
WHAT IF THIS IS AN EXTRATERRESTRIAL LIFE FORM THAT DOES NOT HAVE DNA IN IT, BUT CAN REPLICATE AT ALL THESE DIFFERENT TEMPERATURES AND PRESSURES?

What if? That's a big if, but I think if that is proven, then we have a totally new life form that we know nothing about. I don't like to deal with things we know nothing about. We have a desire to anchor our knowledge to known facts and this becomes difficult to do that. It's almost like saying there is silicon-based life and things like that.



AS AN ASTROBIOLOGIST, ISN'T THE ENTIRE GOAL OF ASTROBIOLOGY TO LOOK FOR LIFE IN OTHER PLACES OF THE UNIVERSE WITHOUT EXPECTING IT TO BE EXACTLY LIKE EARTH LIFE?

That's the aim of some astrobiologists. But I think I have argued for a couple of decades that life everywhere is thoroughly mixed. Even if life started on the Earth 4 billion years ago, that same life would have spread to hundreds of millions of new star-forming systems that our Solar System encountered in its progress around the center of the Milky Way galaxy.



WHAT YOU MEAN IS PANSPERMIA – THAT YOU WOULD BE LOOKING AT ALL LIFE IN THE UNIVERSE AS SEEDED FROM EXACTLY THE SAME KIND OF DNA?

From the same kind of DNA and interconnected in a very profound way, interlinked.



BUT WHAT IF THAT IS NOT THE WAY THE UNIVERSE WORKS?

If it is not the way the universe works, then I think we have to take the – have an open mind and explore the red rain particles as though it was a new discovery of a new form of life.



HAS THERE BEEN ANY EPIDEMIOLOGICAL STUDY OF THE KERALA REGION TO SEE IF THERE WAS ANY INCREASE IN DISEASE OR ANY IMPACT FROM HUNDREDS OF TONS OF THIS MATERIAL COMING DOWN ON THAT REGION?

We did meet up with various people and we asked if there was any adverse effects noted and the answer was no, they did not notice anything. That doesn't mean that there was at a sub-clinical level or something. There wasn't anything disastrously dreadful happened following from it.



PHILOSOPHICALLY, WHY DO YOU TAKE THE POSITION THAT ALL LIFE IN THIS VAST UNIVERSE WOULD HAVE THE SAME DNA?

Because I think we are part of a connected – this solar system formed from material that recycled through many stars, material that was recycled through many interstellar clouds. We know there are hundreds of billions of these clouds and they are chockablock with organic material. So, I think that we are connected in Earth material with a much bigger universe. So, I take the view that we are part of a connected chain of beings that exists that reaches from the Earth all the way to the most distant parts of the cosmos.



IF THESE RED RAIN CELLS TURN OUT TO BE A COMPLETELY NEW ALIEN EXTRATERRESTRIAL FORM OF LIFE, WHAT WOULD THE IMPLICATIONS BE FOR YOU?

The connected chain of life, is still the main thread through the universe. But then, there is a continual process by which new life forms are also generated. That we have not interacted with those new life forms, with those strange life forms, and this is the first we have encountered."

Upcoming Research

Perhaps by August or September 2006, Dr. Wickramasinghe and his Cardiff and Sheffield colleagues hope to have more information about two major questions:
1) Do the Kerala red rain cells have DNA?
2) Could the red rain cells be an unidentified form of yeast or lichen cells from Earth?
If the answer is "no" to the above two questions,
What can be learned about extraterrestrial cells that don't fit the hypothesis of panspermia, in which all life in the universe would be seeded from the same DNA?

And if the red rain cells came to Earth in ice from a comet that perhaps made the one sonic boom heard by Kerala residents in July 2001, where did the comet get the red cells?