by Maryann Tobin
Political Spin Examiner
June 6, 2010
from Examiner Website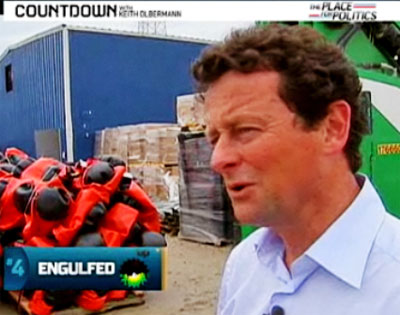 British Petroleum CEO Tony Hayward

In their most tenacious effort to control the 'spin' on the worst oil spill disaster in the history, BP has purchased top internet search engine words so they can re-direct people away from real news on the Deepwater Horizon catastrophe.

BP spokesman Toby Odone confirmed to ABC News that the oil giant had in fact bought internet search terms. So now when someone searches the words 'oil spill', on the internet, the top link will re-direct them to BP's official company website.

This would not be the first time that BP has tried to control information to protect the company's public image.

Shortly after the Deepwater Horizon exploded on April 20, 2010, BP executives quickly underestimated the size of the disastrous oil spill. Some suggest they did it to avoid costly EPA per-gallon spill fines. The less oil spilled, the lower the fines.

A month into the spill, the public learned through independent science, that the spill was in fact a million gallon a day gusher.
BP got caught in their own lie when the used a syphon pipe in one of the broken riser pipes and proudly proclaimed that they were capturing 5,000 barrels of oil a day. With the oil obviously still gushing, they had to up their spill rate to explain the reported discrepancy in their earlier estimates.

As the dead bodies of birds, turtles and dolphins began showing up on land, BP used a private security company as their 'oil spill police' to try to keep photographers and reporters away from the true death toll from their spill.
Tides of black goo lapping a shore lined in corpses did not portray the company image Tony Hayward and his oil rich executives wanted.

BP can spend millions on advertising campaigns, and they can try to misdirect people on the internet. But no matter how hard BP tries or how much money they spend on public relations, they will never be able to hide the apocalypse unfolding in the Gulf of Mexico. You just can't buy or smile your way out of a multi-billion gallon oil spill disaster.

The world is watching the Gulf of Mexico from airplanes, boats and satellite images.
Sending people to the BP company website when they click on the words 'oil spill' is not going to erase the horrors of the Deepwater Horizon disaster, nor will the trickery of British Petroleum.