from IsThereGlobalCooling Website
I will try to give you the answer to the question: "is there global cooling?"
As you are well aware there is a huge effort around the globe to counter the alleged impact of mankind on the world's climate. If in fact mankind will cause the seas to rise appreciably by causing CO2 induced global warming then certainly let's do something about it.
But, what if global warming is not what they say it is? What if the world's temperature is headed in the opposite direction?
Global temperatures increased for twenty years from the late 1970s to the late 1990s but have either stopped warming or have begun to cool in the last fifteen years. The global warming and subsequent cooling were even predictable due to hundreds of years of historical trends and observation of the impact of variations in solar activity on global temperature.
Did you know that in the past the Roman Period and Medieval Period were both several degrees warmer than today's temperature?
The world then cooled at least four degrees from approx. 1450 to 1850. This period was called the Little Ice Age (a period of glacial advance, the same glaciers that have been in retreat until recently).
These temperature variations were not caused by man. They were caused entirely by natural forces.
Quick facts about the...
U.S. and Global Climate, Global Cooling News

U.S. and global Temperatures are not warming


The best and most accurate way to measure global temperatures are from satellites that measure atmospheric temperatures. See how atmospheric temperatures have changed since the start of measurement in 1979 link.
Though the 2011/12 Winter temperatures were warm in the U.S. global temps were the 11th coolest in 32 years of satellite measurement link.

Total global polar sea ice extent is largely unchanged over the past 30 years
When adding the sea ice volumes at both poles there is about the same ice as 30 years ago:

Antarctica has 90% of the world's ice and had the most sea ice ever recorded at the end of 2008, over one million square kilometers above the average maximum.
The global sea ice extent today (combined sea ice at both Poles) is nearly the same as the average of the last 30 years according to NASA and NSIDC: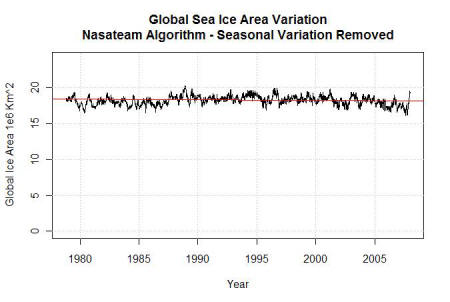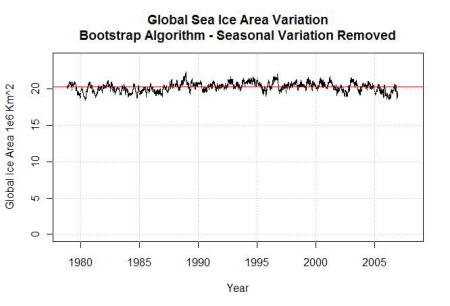 View today's Antarctic sea ice extent compared to the 1979-2007 average (National Snow and Ice Data Center):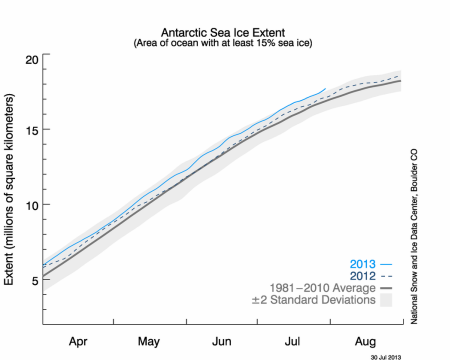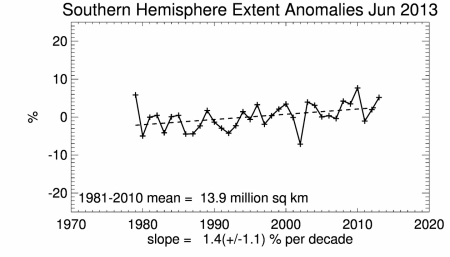 A strong storm in the Arctic during the late Summer of 2012 caused the Arctic ice area to shrink to a record low yet the ice is now expanding at a fast rate. The Bering Sea off Alaska in 2012 had the most ice area ever recorded link.
The Antarctic sea ice extent in September 2009 is also growing and is 1 million square kilometers more than the previous year. In September 2012 Antarctica had the largest sea ice extent ever recorded link.
View today's Arctic sea ice extent, NSIDC (below image), DMI link.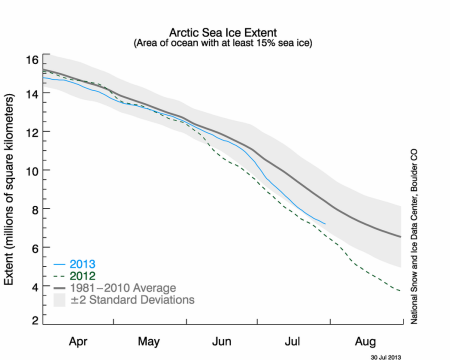 View today's Antarctic sea ice extent Univ. Illinois Cryosphere (below image). 2010 Antarctic ice extent was the third largest ever recorded. Average snowfall in Antarctica was the most ever recorded link.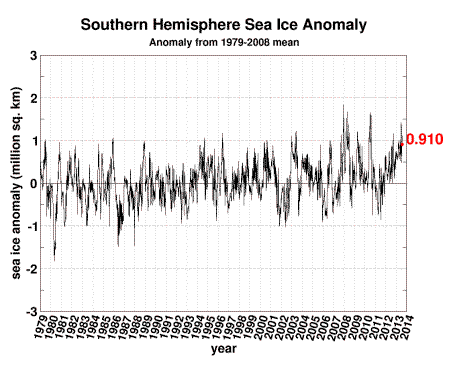 See current ice conditions in the Northern Hemisphere and the Southern Hemisphere: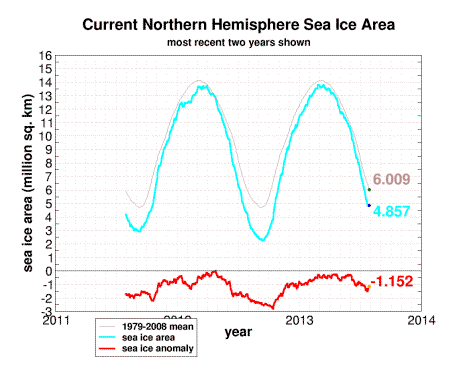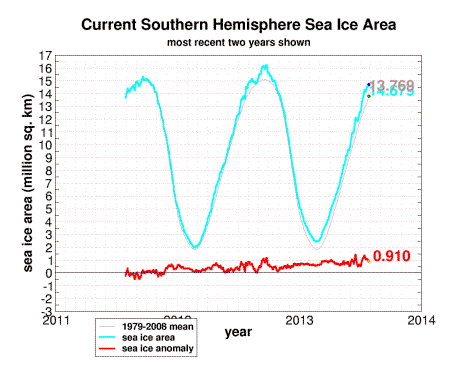 Find out what really impact Arctic sea ice melting link.

Ocean temperatures are cooling
NSIDC/NASA AMSR-E also shows that the overall trend of ocean temperatures since 2002 is one of cooling in spite of a recent short lived El Niņo warming event: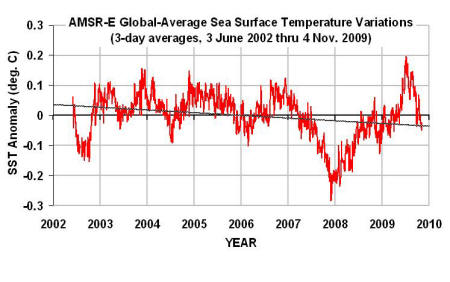 The oceans have been cooling which is contrary to climate model predictions: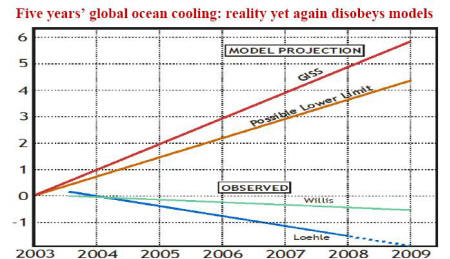 See how Argo is measuring ocean temperatures throughout the globe link.
Argo research (with its 3,300 ocean buoys) has found ocean temperatures are cooler link.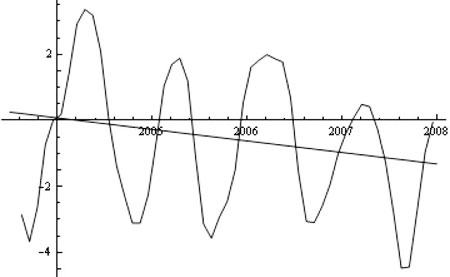 The PDO (Pacific) is moving towards a cool period (La Niņa). See current ocean surface temperatures from the NOAA link, link

Track mid Atlantic storm formation here, NOAA link.
Global storms and their intensity are in decline
The trend for violent tornadoes is in decline in the US: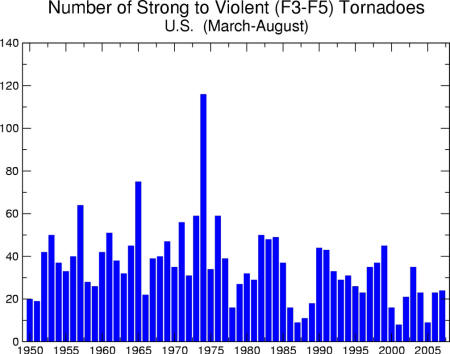 U.S. landfall hurricanes are less numerous and powerful than decades ago. Global hurricane, typhoon, and cyclone activity are nearing 50 year lows according to Florida State University link.
Deaths from severe weather events are in decline: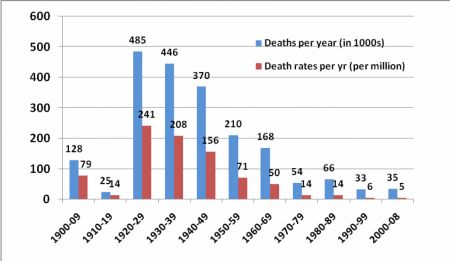 Global cyclone activity is at 33 year lows at the end of the 2010 hurricane season. Pacific storms lowest since recording began in 1945 link.

There have been few hurricanes to reach US shores in the past three years which is highly unusual link. The U.S. went over 1,000 days in a row without a single hurricane strike.
Global hurricane (tornado) activity in 2010 was at the lowest level in three decades even though 2010 was a warm year overall link.
U.S. tornado activity in 2012 was at the lowest level ever recorded according to NOAA link, link, link.

Polar Bear populations are of record size
Some say Polar Bears are threatened but there are more polar bears today than ever recorded, an increase of 300%+ since the 1950s link, link
The scientific name for Polar bears is Ursus Maritimus, which means sea bear. Polar Bears are excellent swimmers and can swim 200 miles or more link.
A Polar Bear with a radio tracking collar swam over 400 miles in 9 days and without rest link. Polar bears have survived periods when the Arctic melted completely in the past (they moved to land).
Polar bear face bright future link.

Solar activity is in decline. This has led to cooler temperatures in the past
Polar ice is growing. Storm intensity is in decline.
One reason may be that solar activity is at the lowest level in almost a Century link, link.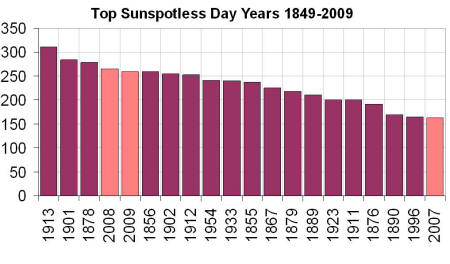 See what the sun looks like with and without sunspots: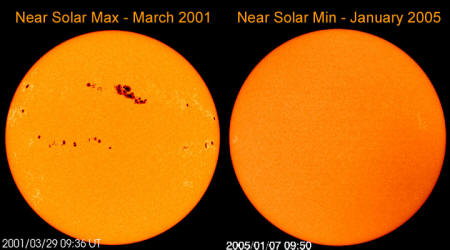 In the past periods with fewer sunspots and lower solar activity were ones with cooler temperatures.
It is believed by some scientists that lower solar activity increases cloud formation and this has a cooling effect. If the past is a predictor of the future, these changes in solar activity will cause a 30 year period of cooling temperatures on earth and in fact it appears that this has already begun.
See solar activity charts here link.
See the combined impact of ocean and solar cycles on global temperatures: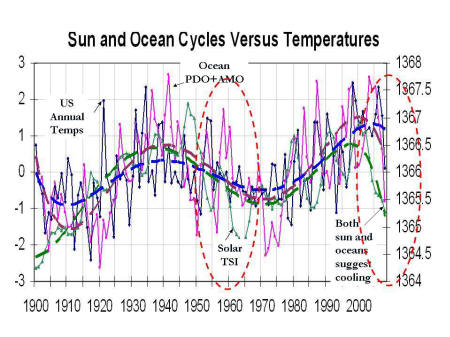 NASA recently announced that due to the expected multi decade continuation of low solar activity that global temperatures should continue to cool.
How much will rising CO2 levels offset this? If the past is a predictor of the future, not much.
Europe, North America and many other areas of the Earth have recently experienced a score of unusually low temperatures.
So where is the global warming that we are preparing for?

Does anyone really think global warming causes global cooling?

Is a carbon cap and trade system that would raise hundreds of billions of dollars each year for the government necessary if in fact the slightly warmer temperatures of 1978-1998 were caused by natural forces such as the Sun's increased activity in that period, and that many scientists are now becoming skeptical of the theory of man made global warming (AGW)? link.

Is the re-engineering of society to reduce CO2 emissions necessary when in the geological history of the planet warming temperatures were never preceeded by rising CO2 levels?

Did you know that if this country eliminates 100% of its CO2 emissions China will replace it within in 2 years due to their high growth rate?
It appears to me that the man made global warming theory is looking more and more like the Y2K 'scare' of the late 1990s.