by Kamilia Lahrichi
February 19, 2015
from VICE Website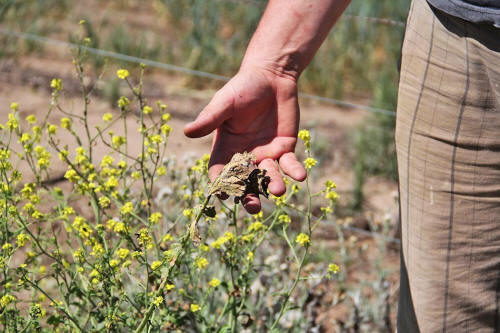 Silvina Bettini is a bubbly young woman with purple makeup and matching earrings who lives six blocks from a soybean field in central Argentina.
Already the mother of one child, she had hoped for another until a medical survey by a German NGO in April 2013 suggested her blood is contaminated with agrochemical residue from pesticides, including a toxic insecticide that is banned in most countries.
Now she's worried about what could happen to her baby.
"I am afraid that if I get pregnant, my child will have a malformation, or that I might lose him or her," Bettini told VICE News.
She was seated just blocks away from another soybean field sprayed with pesticides in Malvinas, the poorest municipality of the Cordoba province, Argentina's central farming belt.
"This complicates one's life," she said. "As a mother, I don't want to inflict this pain on a child."
Like many residents of Argentina's farming communities, Bettini is concerned by a growing list of cases of birth defects, cancers, and other health problems that locals and some experts attribute to the ubiquitous use of agrochemicals in Argentina's agriculture industry, the country's economic engine.
Argentine officials and Monsanto, the American agribusiness giant that manufactures the most common type of the herbicide, deny that the health problems are linked to the chemicals.
The agrochemical issue is most evident in Argentina's soybean industry.
The country is the world's third-largest producer of soybeans. The crop is a staple ingredient of livestock feed, and therefore plays a part in almost every bite of commercially produced meat in the world.
At the same time, most of Argentina's soybeans - 98 percent - are genetically modified.
Because Argentina is the world's biggest soybean exporter, selling significantly more soybean to foreign markets than Brazil or the United States, the soy sent from Argentina to the rest of world may pose a threat to global food security if levels of agrochemicals in exported products are not properly monitored, experts told VICE News.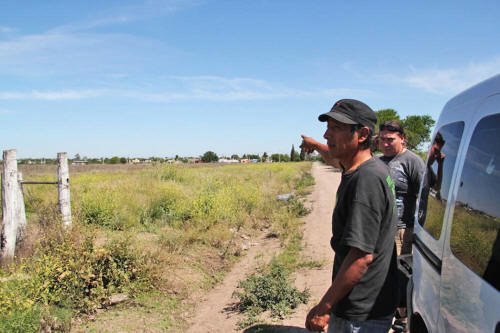 An activist from the organization 'Malvinas Por La Vida'
shows that this soy field where pesticides
are sprayed is less than 200 meters from the closest home.
(Photo by Kamilia Lahrichi.)
Argentina's government has been reluctant to aggressively tackle the industry's dependence on Monsanto, the leading producer of genetically modified seeds. Monsanto-produced soybean seeds grown in Argentina are modified to be resistant to Roundup, the company's flagship herbicide.
Roundup contains glyphosate, a type of herbicide that allegedly contributes to a host of health problems. Despite the purported risks, glyphosate is the most widely used herbicide on the planet.
And its use in Argentina has only grown since the country introduced genetically modified crops.
The country's farmers use more than twice the quantity of agrochemicals per acre as US farmers do, according to a recent AP analysis of government and pesticide industry data.
"There is a direct relation between spraying pesticide on soy and corn fields and the diseases observed among the communities living around the fields," pediatrics specialist Medardo Avila-Vazquez told VICE News in the city of Cordoba.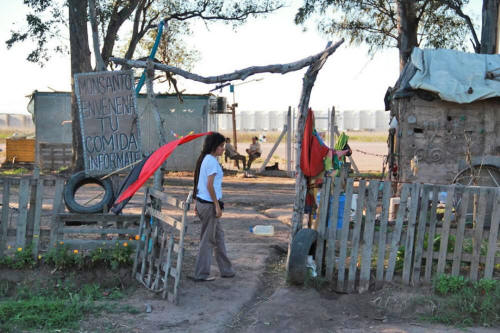 Activists protesting the construction
of a Monsanto plant in Cordoba.
(Photo by Kamilia Lahrichi)
The World Health Organization sets the limit of glyphosate content at 20 miligrams per kilogram in food products.
According to Medardo Avila-Vazquez,
"soy shipments from Argentina contain 100 milligrams per kilogram of glyphosate in soybean," a claim backed by Testbiotech, a German research group that opposes GMOs.
That's "a very big quantity of poison in food," Avila-Vazquez said.
The types of diseases found among, "sprayed people" have dramatically changed in the provinces of Cordoba, Santa Fe, and Chaco since Argentina started using pesticides on cultivated crops in 1996, Avila-Vazquez said.
Doctors have noticed more,
cancers

miscarriages

birth defects,
...since then, reports show.
In the northeastern Chaco province, one of the poorest regions in the country, birth defects quadrupled in the 2000s.
Andres Carrasco, the late head of the molecular embryology lab at the University of Buenos Aires, found in a 2010 study that glyphosate produces "neural defects and craniofacial malformations" in human embryos, which can lead to miscarriage.
Equally worrisome, Argentina is using more and more pesticides each year as plants Roundup is designed to eliminate develop resistance to the chemicals.
In 1996 and 1997, three liters of glyphosate per year per hectare were applied, but Argentine farmers needed 14 liters of glyphosate to cover the same area by 2013, according to Avila-Vazquez.
Monsanto has turned to South America as a crucial growth market.
Monsanto sold 7.5 percent of its products to Argentina in 2013, compared to 5.9 percent in 2010, according to one report.
After decades of asserting that its glyphosate-based Roundup herbicide was safe, Monsanto said in October that it plans to restrict the product's sale in Argentina.
The company did not respond to questions about herbicide use in Argentina and declined to be interviewed when contacted by VICE News.
Fernando Giannoni, Monsanto's director of corporate affairs for southern Latin America, told Bloomberg the company plans to create a register of herbicide users and only sell products to "certified appliers."
"Of course we don't recommend that it's applied near urban populations, nor schools or rivers," Giannoni was quoted as saying. "I don't rule out that in the future we could sue farmers that apply our product incorrectly."
He blamed health problems on farmers who misuse the company's chemicals.
"What's happening is that there's 5 percent of people that are using our product irresponsibly and this causes damage that applies to all farmers," he said.

"As an industry we need to close ranks so that everyone applies the product responsibly and expose those who don't."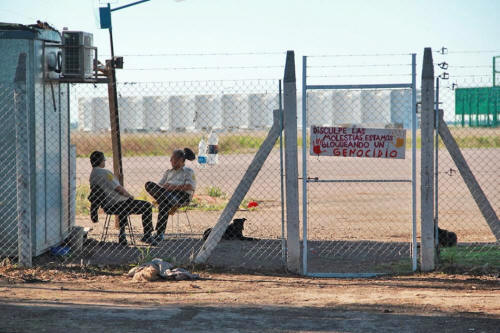 Guards at the Monsanto plant in Cordoba.
(Photo by Kamilia Lahrichi)
It's unclear how the new restrictions will affect soy production.
So far, Roundup use remains widespread in Cordoba's farmlands.
According to the 2011 medical survey that included Bettini, seven out of 11 people tested in the town of Malvinas had glyphosate residue in their blood that exceeded the safety limit set by the UN's Food and Agricultural Organization (FAO) for soybean products used for food and animal feed.
The findings may explain the numerous medical problems Malvinas residents have suffered in recent years, ranging from miscarriages to respiratory illnesses. Locals have claimed for years that the spraying of pesticides and herbicides on fields next to the town caused their health issues.
Not everyone agrees that the cultivation of genetically modified crops in Argentina is detrimental.
"None of these claims [are] objective, reliable, or scientific," Juan Cruz Molina, the secretary of agriculture of the Cordoba province, told VICE News.

"If we were not using GMOs, we would use much more agrochemicals and much more fossil fuel."
Proponents of genetically modified crops say there is no scientific evidence that proves they are harmful.
"Unquestionably, glyphosate is one of the least toxic herbicides," Dr. Juan Dellacha, director of the Argentine Forum on Biotechnology, told VICE News at his office in Buenos Aires.

"The campaign against GM agriculture [...] is due to the lack of real understanding of science and the advantage of GMOs."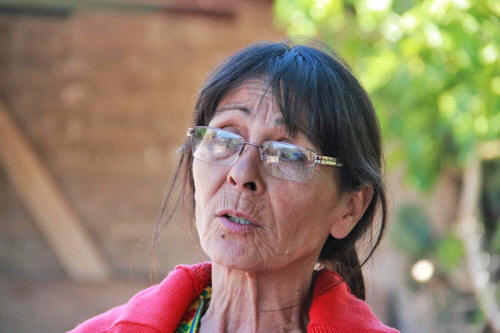 An Argentinean woman who lives next to a place
where Monsanto disposes of agrochemicals.
(Photo by Kamilia Lahrichi)
Argentine citizens and health advocates remain skeptical, however, and have been standing up against genetically modified crop cultivation and pesticide use.
Social movements have railed against Monsanto and the country's reliance on biotechnology in agriculture.
In June 2014, activist organizations in the Cordoba province won an unprecedented battle with Monsanto, stalling the Missouri-based company's plan to set up a $192 million facility in Malvinas to produce genetically modified corn. Construction at the site has been suspended pending an environmental assessment.
Activists won another victory in 2012, after the first trial in Argentina and Latin America of farmers prosecuted for environmental contamination because they applied agrochemicals to their fields.
It was the first time that criminal law was used to judge a pollution case.
The lawsuit was the result of the efforts of a group of women from the working-class neighborhood Ituzaingó Anexo, on the outskirts of Cordoba city.
Farmers have sprayed agrochemicals for years in the small town of 5,000.
The women had children's blood samples tested, and the results allegedly showed a link between exposure to glyphosate and cancers, thyroid disorder, lupus, and respiratory diseases.
"For many years, [farmers] fumigated these fields with very carcinogenic products and now there are houses [nearby]," Marcela Ferreyra, one of the founders of the organization Mothers of Ituzaingó Anexo, told VICE News.
After the women discovered that the cancer and infant mortality rates in the community were much higher than the national average, the municipality banned spraying by hand within 500 meters of the town.
Signs along the fence protecting the Monsanto plant in Cordoba
warn that protective work clothing is obligatory.
(Photo by Kamilia Lahrichi.)
In June 2014, after the Cordoba justice system halted construction of the proposed Monsanto facility in Malvinas, the province adopted stricter environmental policies.
The new laws guarantee an impact evaluation - including a public hearing - prior to government authorization of projects that could significantly affect the environment. Lawmakers and citizens can also initiate a referendum on large projects if they gather enough signatures.
Responding in an email to VICE News' questions about agrochemicals in Argentina and the stalled plant in Cordoba, a Monsanto representative wrote that the company,
"is preparing a new study on the environmental impact that fits the requirements of the new law."
For now, there are no compensation policies in Argentina for people who claim they were sickened by agrochemicals.
"The only legal actions available in Argentina are related to non-compliance with the spraying of areas of exclusion and non-compliance with distances [of area of spraying from people's homes]," Jonatan Emanuel Baldiviezo, coordinator of Argentina's environmental lawyers association, told VICE News.
Marcela Ferreyra, the cofounder of the Mothers of Ituzaingó Anexo activist group in Cordoba, said her newborn died because he had a face and a hand malformation and lacked a diaphragm.
Doctors at the Neonatal Hospital in the city of Cordoba did not tell her it was due to her exposure to agrochemicals spraying.
Ferreyra said she was forced to hire a lawyer to get "the clinical story" of what happened to her child.
"It's hard because everybody knows that there is a health problem in Ituzaingó, but it is difficult for [the government] to accept this problem," said Norma Herrera, another cofounder of the Mothers of Ituzaingó Anexo group.
Herrera has a 16-year-old daughter who was diagnosed with leukemia at the age of three.
She said doctors told her that agrochemicals sprayed close to her house caused her daughter's disease.
Argentina's government has consistently disregarded claims of sicknesses due to agrochemicals spraying, and still heavily supports transgenic agriculture. Farming is the motor of the nation's economy.
More than 70 percent of businesses in the country are linked to agriculture, which includes feed and fertilizer companies, said Juan Dellacha, the director of the Argentine Forum on Biotechnology.
"I am not aware of any negative aspects," Molina, the Cordoba agriculture secretary, said.
With a 35 percent export tax, the agricultural sector brought $7.5 billion in revenue for the Argentine government in 2013.
Two members of Malvinas Lucha Por La Vida, the resistance movement that fought to block the Monsanto plant's installation, showed VICE News the soy fields in front of the stalled site.
They pointed out that the fields are illegally located less than 200 meters from the closest residence.
"We will stay here until there is absolutely no chance that Monsanto will return to Malvinas," one of the activists said.