May 5, 2014
from CommonDreams Website
Prohibition applies to all current
and future varieties of GM corn...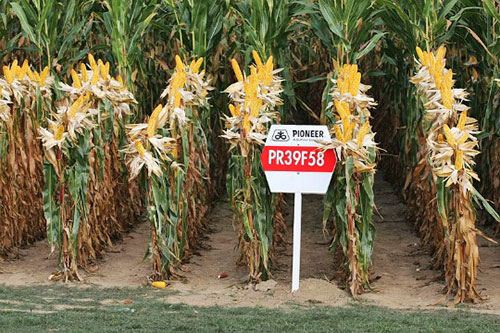 Presentation of Pioneer's PR39F58 maize,
Werktuigendagen 2009, Belgium
(Photo: Wikimedia / CC)
The French government on Monday officially banned any strain of genetically modified corn from growing in its soil.

The prohibition is effective immediately and comes as France's top court upheld and the Senate confirmed an existing ban on all current and future varieties.

As Agence France-Presse reports:
With Paris having twice put temporary bans on GM crops - in 2011 and 2013 - [lobbyists for the biotech industry] said Monday's verdicts were "not a surprise".

The agriculture ministry banned Monsanto's MON810 - the only insect-resistant GM corn allowed to be grown in the European Union - in March.

Its authorization is currently under review by the EU as part of a wider look at the use of GM crops, but member states have the right to ban them regardless of rulings from Brussels.

France is pushing to cut Brussels out of the process entirely, with future GM authorizations taken only at the national level.
Within parliament, the political push for the ban came from the Socialist, Green, and Communist parties, who invoked concerns over the environmental impacts of genetically modified crops.
However, the real pressure emerged from widespread protests against GMOs in France, Europe's largest grain producer, where a majority of people have long opposed the introduction of GMO agriculture.