Director
27 August 2012
from IMVA Website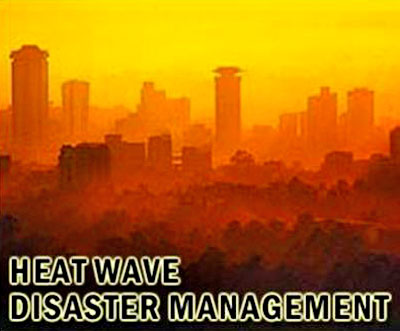 The United States and many other heavily populated countries face a growing threat of severe and prolonged drought according to a new study by National Center for Atmospheric Research (NCAR) scientist Aiguo Dai.
The detailed analysis concludes that warming temperatures associated with climate change will likely create increasingly dry conditions across much of the globe.

Though scientists are still talking in terms of decades, we are seeing the threat already rearing its ugly head in 2012, but blaming it on gradual global warming caused by human-related greenhouse gases does not explain the extreme nature of recent changes in the world's climate.
What exactly does explain the violent climate change today is anyone's guess?
Some blame weather modification and HAARP and others blame Planet X for concurrent with the dramatic weather are increases in volcanic activity and earthquakes. No matter what the cause though we are getting lessons on how fragile life is and how vulnerable our food supplies are.

Most of the world's best foods producing regions are in the Northern Hemisphere, particularly the central North American continental great grain belt, where it has been hot and exceptionally dry. The value of water is going to rocket upwards in the next few years - who would have ever imagined 50 years ago that we'd have to pay for water.
In the news are headlines telling us that forecasters say there's no relief in sight for Southern California's heat wave or any of the heat waves affecting the Northern Hemisphere.

The Northern Hemisphere is warming faster than the global average for some reason with the Arctic being the fastest-warming region on the planet. Arctic cooling is failing because of ice melt - the open dark sea absorbs heat from the sun instead of the ice reflecting it - perhaps the Arctic sea ice has passed a tipping point.
This is the air conditioner for the entire Northern Hemisphere and it seems like it is failing.

Since mid-June, grains, namely corn, soybeans and wheat have rallied 38%, 24% and 45%, respectively, after the worst U.S. drought in a half-century wiped out crops in the world's biggest agricultural exporter. No one is talking publically about where the prices are going to go when the really bad news comes in about the actual numbers.

John Taylor, an executive in the national Farm & Ranch division of U.S. Trust says,
"We are in a tough place right now for food."
More than 18% of Americans say there have been times this year when they couldn't afford the food they needed, according to a Gallup poll released in August.

Kevin Craney, a Senior Commodities Broker for RJO Futures in Chicago, explains that the drought-ravaged growing season is even worse than what even the most pessimistic forecasters expected.
He said,
"It's not only that, it's the quality of the crops as well which is causing people concern."
Feedinghunger.org says one in six people in the U.S. go without food for several meals or even days. Financial lenders worldwide are also alerting countries to prepare for a possible spike in food bills in the coming months, Reuters reported on Tuesday.
In this above Ted video we learn creative strategies that help us do something about the increasingly serious situation that is gathering in the area of food.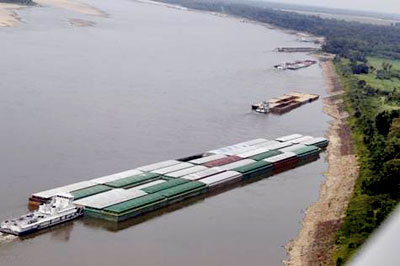 Officials with the U.S. Army Corps of Engineers say
low water levels that are restricting shipping traffic,
forcing harbor closures and causing towboats and barges
to run aground on the Mississippi River are expected
to continue into October.
(AP Photo/Rogelio V. Solis)

Barges and their towboats accumulate alongside the Mississippi banks of the Mississippi River near Greenville, Miss. Tuesday, Aug. 21, 2012.
As the Midwest experiences its worst drought in 50 years, the Mississippi River is hitting low water levels not seen since 1988, a year viewed by those in the industry as a benchmark of hard times.

The worst drought in more than 50 years is having a devastating impact on the Mississippi River.
The Mississippi has become very thin and very narrow, and if it keeps on dropping there is a very real possibility that all river traffic could get shut down. And considering the fact that approximately 60% of our grain, 22% of our oil and natural gas, and one-fifth of our coal travel down the Mississippi River, that would be absolutely crippling for our economy.
It has been estimated that if all Mississippi River traffic were stopped, it would cost the U.S. economy 300 million dollars a day.
"As the United States' extended heat wave and drought threaten to raise global food prices, energy production is also feeling the pressure.

Across the nation, power plants are becoming overheated and shutting down or running at lower capacity; drilling operations struggle to get the water they need, and crops that would become biofuel are withering."

"Power plants are completely dependent on water for cooling and make up about half the water usage in the US.

That makes them vulnerable in a heat wave. If water levels in the rivers that cool them drop too low, the power plant - already overworked from the heat - won't be able to draw in enough water.

In addition, if the cooling water discharged from a plant raises already-hot river temperatures above certain thresholds, environmental regulations require the plant to shut down.

One nuclear plant in Connecticut recently had to shut down because the sea water used for cooling was too warm."
South Korea's extended heat wave has taken its toll on both humans and animals, with more than 830,000 chickens or other poultry reported dead as of Wednesday.
The agriculture ministry said 786,512 chickens, 40,780 ducks, 3,000 quail, 336 pigs and five cows have died since July 20 when the peak temperature began hovering above 33°C (91.4°F) in most areas.
The stifling heat also killed seven people in June and July, the health ministry said, mostly elderly people working in fields or greenhouses.
Temperatures have stayed above 35°C for 12 days in much of the country, causing massive blooms of algae in rivers. Sales of electric fans and air conditioners have soared. On Monday the state power company warned that reserves were dangerously low and urged people to switch off appliances as usage reached a record.
The meteorological administration says relief is in sight starting Friday, with midday temperatures dropping to the customary August figure of 30°C from the weekend.

The July heat wave that wilted crops, shriveled rivers and fueled wildfires officially went into the books as the hottest single month on record for the continental United States.
The average temperature across the Lower 48 was 77.6°F, 3.3°C above the 20th-century average, the National Oceanographic and Atmospheric Administration reported. The high temperatures have contributed to a "rapid expansion" of drought across the central United States, NOAA found.
Dozens of cities and towns already have seen the mercury hit record levels this summer, and three states - Nebraska, Kansas and Arkansas - saw record dry conditions between May and July.

The past 12 months have been the warmest of any such period on record, topping a mark set between July 2011 and this past June. Every U.S. state except Washington experienced warmer-than-average temperatures, NOAA reported.

Once considered to be once-in-100-year events, giant dust storms are pounding the U.S. state of Arizona. In a summer of excessive heat and extreme drought, this is not good news. Since June, five dust storms have plagued Arizona's famous valley area.
On July 29, Phoenix looked more like Saharan Africa than the well-manicured American Southwest.

The fine dust can carry a poisonous mix of fungi, heavy metals from pollution, fertilizers, stockyard fecal matter, chemicals and bacteria, which can cause cardiovascular disease, eye diseases and other illnesses, such as valley fever.
Valley fever, caused by the Coccidioides fungus present in desert soil, can be fatal. Valley fever is contracted when desert soil is thrown into the air and breathed in.


Air Conditioning for the Mind

If you are one of the people suffering under the sweltering conditions, don't be fooled because there is some long-term hope - planetary temperatures in other areas are dropping.
The stratosphere is getting colder but the sea temperature is rising (though some sources doubt this rise) so we have something going on other than what we think. Before even finishing this essay I was hot on the trail of interesting information about current climate conditions and will publish that next.

August 2011 was the third coldest month on record in the lower stratosphere, according to the National Climatic Data Center: temperatures have been generally declining in recent decades.
If the following chart does not cool your mind down I don't know what will!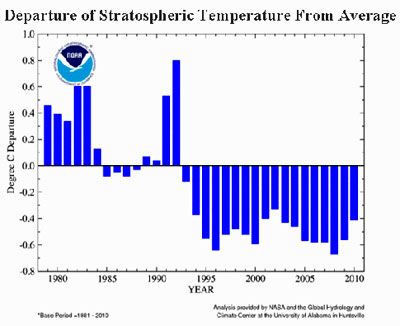 Special Note: Stock up on delicious super/survival/medicinal foods is what I continue to suggest my readers do.
Secure your food supplies!
We are seeing huge losses every day in the breadbasket of North America and that is going to force prices up resulting in a death spiral for millions of people over the next year.
All of my protocol items are concentrated nutritional medicinals so the same goes for stocking up on magnesium oil, sodium bicarbonate (baking soda), vitamin C, and other important medicines that do double duty feeding the cells and keeping the healthy.