by Michael E. Salla, Ph.D.
May 30, 2011
from Exopolitics Website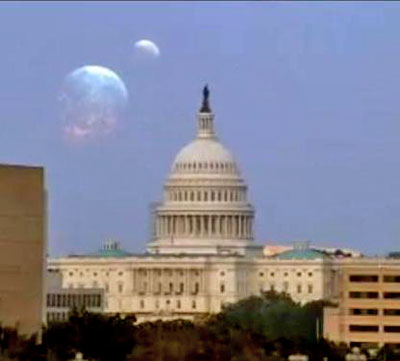 Extraterrestrial Home World
appears between Earth and Moon in final episode of The Event

The Event is a fictional NBC television show featuring a black U.S. President grappling with the national security problem of whether or not to tell the U.S. public about the existence of extraterrestrial life.
Comet Elenin is a long-period body from the Oort cloud that is approaching the inner solar system and has been associated with major earthquake activity on Earth. What is the relationship between Comet Elenin and the Event? Perhaps nothing; or, maybe, a very lot indeed. For there is an important paradox surrounding Comet Elenin.
The solution to the paradox may well have been revealed in the season finale of the Event.
Were elements of the U.S. government using a fictional television show to break to the world public something with tremendous global significance that might soon unfold? Read on.

Even though Comet Elenin was only discovered in December 2010 by Russian amateur astronomer Leonid Elenin, its passage through the solar system could be tracked back to when it entered the solar system by a very useful orbiting tracking software that NASA's JPL makes freely available to the public. Something remarkable was found by a Bosnian earth scientist who tracked Elenin's orbital passage back to 2006.
Dr. Mensur Omerbashich found that Elenin was aligned with the Earth and other planets when major earthquakes had appeared. In a paper released on an online science archive, he outlines the most significant alignments featuring Elenin that he claims are linked to seismic activities on Earth.

The remarkable discovery by Dr Omerbashich suggests that Elenin was something very large, with an enormous mass and gravitational field to be able to influence seismic events on Earth from a very long distance going back as far as 2006. Elenin's size and mass could be even as big as brown dwarf star as some conspiracy theorists have been arguing has been secretly known to be approaching the inner solar system.
In 1983, the Washington Post and New York Times published articles about a large mysterious Planet X that could be a brown dwarf that was part of our solar system.
According to some researchers, Planet X was none other than the planet Nibiru revealed in the first published book by the recently deceased scholar of Sumerian history, Zecharia Sitchin.

In 1976, Sitchin wrote The 12th Planet (he included the moon and the sun as planets) which according to ancient Sumerian cuneiform texts was Nibiru, the home world of extraterrestrials called the Anunnaki.
Nibiru or Planet X, was a long-period body that took 3600 years to revolve around our solar system. According to Sitchin, each time Nibiru/Planet X passed through our inner solar system, major destruction would occur to nearby planets.
For some researchers, Elenin's seismic influence on Earth is a sign that it is Nibiru. Some go as far as claim that the name Elenin, is in fact a code for Extinction Level Event Nibiru is Near (ELENIN).

The main problem with the Elenin is a brown dwarf star claim is that its orbit, as mapped and projected by JPL's orbital tracker, showed that Elenin was an object with a tiny mass.
Elenin would loop around the sun in less than the three months spanning September to November, 2011. This was an impossible orbital swing around the sun if Elenin was really a brown dwarf star. In the words of Donald Yeomans from JPL, the data revealed that Elenin was "kind of wimpy" and there is nothing to be concerned about.
So there is a paradox here over what JPL is telling us about Elenin, and its seismic influence from long distances as observed by Dr Omerbashich.

The season finale of NBC's "The Event" finally revealed what "The Event" was all about. For those that watched all 22 episodes - it was a long wait but well worth it. The Event wasn't about the disclosure of extraterrestrial life, or the announcement that extraterrestrials are living among us.
It wasn't even the appearance of extraterrestrial motherships over population centers - a favorite jaw dropping scene from popular movies such as Independence Day; Battle: Los Angeles; or television shows like V.
The Event was something even more breathtaking.

The Event was preceded by a series of world wide earthquakes, and then it was suddenly revealed. An exoplanet appeared out of some kind of cosmic anomaly in near Earth orbit, dwarfing the moon in size.
More significantly, the exoplanet was the home-world of extraterrestrials.
As it appeared, earthquakes continued to intensify on Earth.
Was the Event foreshadowing something significant about to unfold in our planetary history?

Is Comet Elenin merely the vanguard of something much larger following it that is responsible for the seismic activity discovered by Dr Omerbashich?

Will a large exoplanet, the home-world of ancient extraterrestrial visitors, suddenly appear during its passage through the inner solar system, close to the Earth, in the not too distant future?
These questions all arise from the paradox that is Comet Elenin.
The Event may have revealed the answer to the Elenin paradox. Thankfully we may not have that long to wait. Elenin will on October 16 (2011) be only 0.24 AU from the Earth (only a quarter of the distance to the sun).
If something is trailing behind Elenin, we will find out soon enough...