by Joe Martino
June 26, 2018
from Collective-Evolution Website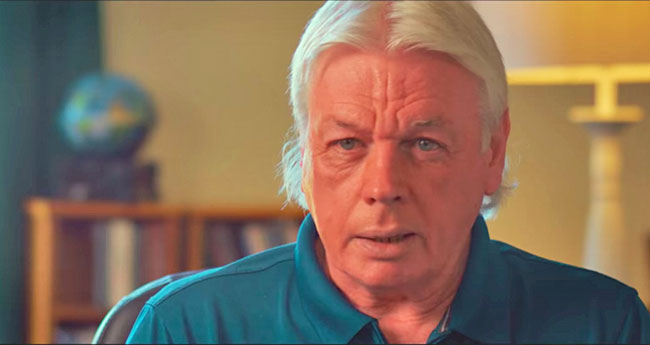 In Brief

The Facts:
Collective Evolution is co-producing a film about David Icke with the filmmakers who brought you Unacknowledged. The film is partly shot and has worldwide distribution.


Reflect On:
If you want to see this film made, consider donating to the crowdfunding campaign. In order to finish the film we need to raise more funds.

When you think of someone who has gone through what was likely the most difficult public shaming one could possibly go through, you may think of David Icke if you know his story.

In the 90's, Icke was experiencing a spiritual awakening.
One that not only brought him a greater awareness of himself and who we truly are, but greater awareness about our world, who runs it and how it all works.
After appearing on national Television and telling the world that a group of reptilians are involved in advising the deep state elite of our world, he was laughed at publicly for many years.

Over time, aspects of David's message has been proven true, and his following has grown as more and more resonate with the many amazing truths he has helped to bring forth.
David is a dot connected and profound researcher. If you are into exploring consciousness and conspiracy theories, it's like you've heard of him or have been influenced by his work.

He influenced my journey early on as I was first awakening 10 years ago, and this is why we're excited to be co-producing an incredible film about David with the team that brought you Unacknowledged.

Filming on this project began a couple of months ago and is humming along nicely.
An early 2019 release is still on the books and worldwide distribution is in place. But we need some further help with funding to finish some of the filming as there are some exotic and important locations we wish to visit.

With your support, we can produce a world-class film that will take you around the globe to explore exotic places that hold profound clues to this cosmic puzzle.
We would like to bring David to places such as Chichen Itza in Mexico, Bran Castle in Romania, and the Vatican to discuss the hidden meaning and secret histories encoded in the art, architecture and symbols.

We've already raised over $21,000 but we need to get as close to our goal as possible to make this a film we know can reach the masses.

Please help support David and this film by donating to and sharing the crowdfund.