About the Author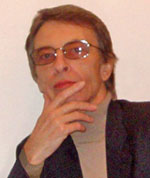 Laurence Gardner is a Fellow of the Society of Antiquaries, and an Associate of the Institute of Nanotechnology. Distinguished as the Chevalier de St. Germain, he is a constitutional historian, a Knight Templar, and is Presidential Attaché to the European Council of Princes. Based in England, he is author of The Times and Sunday Times bestseller, Bloodline of the Holy Grail. This was serialized nationally in the Daily Mail and gained Laurence a UK Author of the Year award in 1997.

In the artistic domain, Laurence has been Conservation Consultant to Britain's Fine Art Trade Guild, and is currently involved in Los Angeles movie production. In the world of music and the performing arts, he has written and produced for the musical stage, and his libretto compositions have been performed at London's Royal Opera House, Covent Garden. Laurence's writing career has included collaborative projects with national institutions such as the British Tourist Association, the National Parks Authority, The Queen's Bays Regimental Museum, the Government of Ontario and the Russian Ministry of Culture.

Laurence Gardner's books:
Lost Secrets of the Sacred Ark, published by Element/HarperCollins in February 2003 (ISBN 0-00-714295-1).

Bloodline of the Holy Grail: The Hidden Lineage of Jesus Revealed, published by Element Books in 1996 (ISBN 1-85230-870-2 h/c), and is now available in paperback, distributed by Penguin Books (ISBN 1-86204-152-0).
Laurence Gardner can be contacted by mail at PO Box 4, Ottery St Mary EX11 1YR, United Kingdom, by email at laurence58@btopenworld.com , or via his website at http://Graal.co.uk