3-D Map of the Earth

created 120 million years ago

by A.N. Chuvyrov
Specially for PRAVDA.Ru
Huang Hong
Photograph: Alexandr Chuvyrov

June 05, 2002
PRAVDA.Ru will hold an on-line press conference with Doctor of Physical and Mathematical Science Alexander Chuvyrov. The professor of Bashkir State University found indisputable evidence of the existence of an ancient, highly developed civilization in the Urals.
His find is a huge slab, whose age is supposed to be about 120 million years.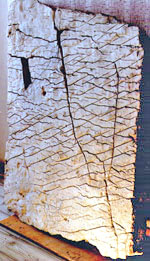 "Our research topic is about the possible migration of ancient Chinese to the territory of modern Russia: Siberia and Urals. We have discovered letters on the rocks made in ancient Chinese about 3000 years ago.

During our research in the Ufa archives, we discovered notes from the end of 18th century about 200 unusual ancient stone plates. Our idea was that these plates are somehow connected to Chinese migrants.
Thus we were looking for an ancient civilization, but much closer to ourselves. We were expecting to see nothing more than hieroglyphs or pictures with a running mammoth and deer typical for that period. There were six expeditions organized, and in 28 July 1999, at 1.06 meters underground, we found the plate now called "Dashkin kamen" ("kamen" is stone in Russian).

It has a significant size: about 1.5 meters in height, more than 1 meter wide, and 16 cm thick. It weights more than 1 ton. In the scientists- opinion, it is a relief, a 3-D map.

We were absolutely happy; we thought we found a product made more 2000 years ago. The plate itself is artificial. It was produced from a special cement of three layers, and the third layer is a white-colored porcelain. It should be noticed that the relief on this plate was not cut manually with some ancient stonecutter. It is evident that some mechanical work was done.

There is a region from Ufa up to the town of Salavat represented on the plate. Ufa's hills are very familiar from one side. From the other side there are some changes.

Firstly, we were surprised by the Ufa canyon: the break in the earth-s crust from the present Ufa to the present Sterlitomak city. There was a river in it 2-3 kilometers deep and 3-4 kilometers wide.

Nevertheless, this break is one of the principal points of our theory.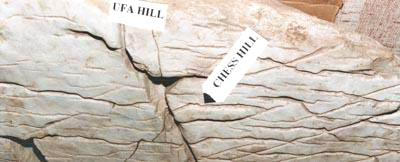 We conducted geological research and found it's track in the place where it should be theoretically.

Tectonic plates from the East crushed it for about 10-15 kilometers to the West. We assume that, now, the Urshak River is in the place of this former canyon.

There are not only rivers, but two systems of channels up to 500 meters wide and a total length of 12,000 kilometers. The whole hydro system includes 12 dams 300-500 meters wide, 10 kilometers long, and 2-3 kilometers deep.

They made it possible to turn water from any side into any channel.

About 1000 trillion cubic meters of soil were moved to create this."