by Paul Tatnell, Padraic Murphy
March 17, 2011
from HeraldSun Website
Behind Japan's escalating nuclear crisis sits a scandal-ridden energy industry in a comfy relationship with government regulators often willing to overlook safety lapses.

Leaks of radioactive steam and workers contaminated with radiation are just part of the disturbing catalogue of accidents that have occurred over the years and been belatedly reported to the public, if at all.
Nuclear Nightmare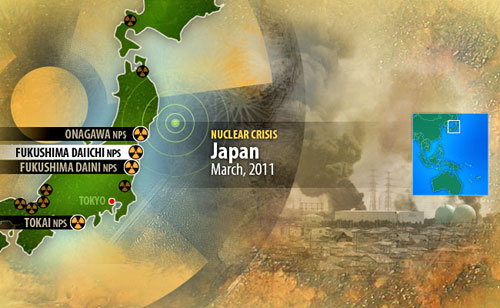 In one case, workers hand-mixed uranium in stainless steel buckets, instead of processing by machine, so the fuel could be reused, exposing hundreds of workers to radiation.
Two later died.
"Everything is a secret," Kei Sugaoka, a former nuclear power plant engineer in Japan who now lives in California, said.

"There's not enough transparency in the industry."
Sugaoka worked at the same utility that runs the Fukushima Dai-Ichi nuclear plant where workers are racing against time to prevent a full meltdown following Friday's 9.0 magnitude quake and tsunami.

In 1989 Sugaoka received an order that horrified him: edit out footage showing cracks in plant steam pipes in video being submitted to regulators. Sugaoka alerted his superiors in the Tokyo Electric Power Co (Tepco) but nothing happened. He decided to go public in 2000. Three Tepco executives lost their jobs.

The legacy of scandals and cover-ups over Japan's half-century reliance on nuclear power has strained its credibility with the public. That mistrust has been renewed this past week with the crisis at the Fukushima Dai-Ichi plant.

No evidence has emerged of officials hiding information in this catastrophe.
But the vagueness and scarcity of details offered by the government and Tepco - and news that seems to grow worse each day - are fuelling public anger and frustration.
"I can't believe them," said Taketo Kuga, a cab driver in Tokyo, where low levels of radiation was observed on Tuesday, despite being 220km away from the faulty plant.
Kuga has been busy lately driving to airports and train stations people eager to get out and flee southward.
And it unsettles him the information about radiation is all over the Internet, hours before officials make their announcements.
"I don't feel safe," he said.
Doubts over whether Japan can contain its nuclear crisis are growing, as helicopters are used to dump water on to an overheating power plant and more countries urge citizens to leave Tokyo.

Radiation levels at Japan's stricken Fukushima nuclear power plant remained unchanged today after military helicopters dumped water on the crippled No. 3 reactor in an effort to cool down its storage pool.

Four military Chinooks ran a mission to empty containers holding more than seven tonnes of water each on to the nuclear facility, damaged by Friday's massive 9.0 magnitude earthquake and subsequent tsunami.

Eleven water cannon trucks also sprayed water from the ground on to the No. 3 reactor.

But Tokyo Electric Power Co. (TEPCO), which operates the facility, said the radiation levels had remained the same since the water-dumping operation was completed.

The radiation level around the plant's buildings was about 3000 microsieverts per hour, TEPCO said, compared to the safe level of 1000 microsieverts.

The operation aims to keep the fuel rods inside reactors and containment pools submerged, to stop them degrading when they are exposed to air and emitting dangerous radioactive material.

At the same time, Japanese engineers are focused on restoring the power supply to the stricken power plant to try to reactivate its cooling system and avert a meltdown.

The power supply to the Fukushima No. 1 plant on the Pacific coast, 250 km northeast of Tokyo, could partially resume later today, the country's nuclear safety agency said.
"If the restoration work is completed, we will be able to activate various electric pumps and pour water into reactors and pools for spent nuclear fuel," a spokesman for TEPCO said.
The power system - and its emergency diesel-fueled generators - failed when the tsunami hit the complex, soaking electrical equipment in water.

Since then, overheating has caused four hydrogen explosions and two fires at the plant as well as a partial meltdown at the No. 1, No. 2 and No. 3 reactors of the six-reactor facility.
"Damage to the cores of the three units - units 1, 2 and 3 - has been confirmed. The cores remain uncovered by one or two meters," UN atomic watchdog chief Yukiya Amano said yesterday.
Mr Amano said the situation was "very serious" as he prepared to fly out to see the damage for himself.

France said it will send a plane carrying 95 tonnes of boron, an element that dampens radiation, to help Japan tackle the crisis at the Fukushima plant, Energy and Industry Minister Eric Besson said.

The first plane carrying 95 tonnes of boron was leaving early Thursday (local time), Mr Besson told France 2 television. He did not specify whether the plane was carrying boron, an element that absorbs neutrons, in powder or liquid form.

Mr Besson said that France had offered the boron on Saturday, the day after Japan's biggest earthquake on record struck but,
"either they didn't think it was useful or they didn't have the time to reply."
Mr Amano, the Japanese chief of the International Atomic Energy Agency, insisted on Tuesday there was no comparison to the Chernobyl crisis, when radiation spewed across Europe.

US President Barack Obama offered to give Japan any support it needed, in a telephone call with Prime Minister Naoto Kan, the Japanese leader's spokesman said.

But as crews battled to prevent a disastrous meltdown, more foreign governments urged their citizens to steer clear of quake-stricken northeast Japan and the capital Tokyo.

Australians in Japan were told to leave Tokyo, amid the worsening crisis at the power plant and the threat of aftershocks.

Foreign Minister Kevin Rudd said 22 Australians were still officially missing, but scores were stranded in areas where radiation levels had soared.
"If you're in Tokyo or any of the affected prefectures, we are saying that you should depart," Mr Rudd said.
Britain advised its citizens to consider leaving Tokyo and northeastern Japan, though UK officials said there was still "no real human health issue that people should be concerned about".

French authorities said they were assigning two government planes to assist French citizens who wanted to leave Japan.
"Given the possible evolution of the situation, French citizens in Tokyo are recommended to leave the region for the south of the country or for France," the foreign ministry said.
US officials warned nationals living within 80 km of the crippled Fukushima nuclear plant to evacuate or seek shelter.

The Japanese government told people living up to 10 km beyond the 20-km exclusion zone around the plant to stay indoors. More than 200,000 people had already been evacuated from the zone.

Germany, Italy and the Netherlands also advised their nationals to leave or refrain from travelling to the northeast.
"The site is effectively out of control," the European Union's energy chief Guenther Oettinger told a European Parliament committee, a day after he said Japan was facing "apocalypse".
France's Nuclear Safety Authority said the disaster now equated to a six on the seven-point international scale for nuclear accidents, ranking the crisis second only in gravity to the level-seven Chernobyl disaster in 1986.

US Energy Secretary Steven Chu said the events in Japan "actually appear to be more serious" than the 1979 accident at Three Mile Island, a partial reactor meltdown that led to small releases of radioactivity.
"To what extent we don't really know now," Mr Chu said in Washington.
Gregory Jaczko, chair of the US Nuclear Regulatory Commission, warned there was no water left in the spent fuel pool of the Japanese plant's No. 4 reactor, resulting in "extremely high" radiation levels.

The US military would send a spy drone to take a closer look at the reactors in the troubled plant, Kyodo News reported.

Japan's chief government spokesman Yukio Edano said radiation levels from the plant posed no immediate health threat outside the 20-km exclusion zone, despite slightly elevated levels detected in Tokyo over the past few days.

Aside from the nuclear threat, the full scale of the quake and tsunami disaster was becoming clear, as more details emerged of the staggering death and devastation in the worst-hit northeast.
"The number of people killed is increasing day by day and we do not know how many people have fallen victim," Japan's Emperor Akihito said in a rare televised address to the nation yesterday.

"People are being forced to evacuate in such severe conditions of bitter cold, with shortages of water and fuel... I cannot help praying that rescue work is done swiftly and people's lives get better, even a little."
The official toll of the dead and missing had exceeded 14,000, police said, with the number of confirmed dead at 5,321.

But reports continued to come in that indicated the final toll could be much higher. The mayor of the coastal town of Ishinomaki in Miyagi prefecture said yesterday that the number of missing there was likely to hit 10,000.

On Saturday, public broadcaster NHK reported that about 10,000 people were unaccounted for in the port town of Minamisanriku in the same prefecture.

Amid a mass rescue effort, there were grim updates indicating severe loss of life along the battered east coast of Honshu island, where the monster waves destroyed or damaged more than 55,380 homes and other buildings.

Australians stranded in Japan are pleading for help to leave the devastated country amid growing fears of a nuclear catastrophe. DFAT is now advising Australians to stay at least 80km from the Fukushima nuclear plant.

Tokyo was in gridlock with reports thousands were trying to flee amid fears the wind would bring downpours of nuclear rain. In some good news, two Australian search and rescue workers are now back on the job after being exposed to low levels of radioactive contamination near the stricken Fukushima plant.

But Australians in the zone hardest hit by Friday's tsunami have also told the Herald Sun they are being urged to get out. Without petrol, food and water, many have no chance.

Japan in Crisis