by Paul Stokes
20 September 2009
from Telegraph Website
Over a third of GP surgeries have seen patients suffering complications after being misdiagnosed with swine flu including at least three deaths,
a survey suggests.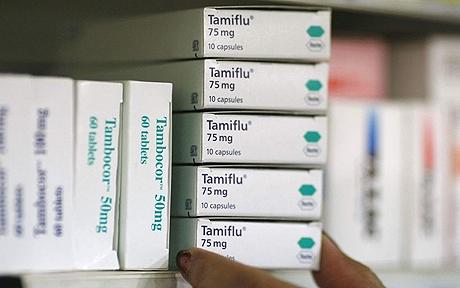 Tamiflu - Patients suffer complications after swine flu misdiagnosed
A total of 132 million doses have been ordered by the UK Government - enough for the entire population with two doses each
Photo: REUTERS

Family doctors have reported effects ranging from mild adverse reactions to the antiviral drug Tamiflu to severe case of tonsillitis, meningitis and pneumonia.

Three out of 205 family doctors and practice managers surveyed by the health magazine Pulse reported a patient dying after being misdiagnosed. Ninety one per cent of those polled called on the Government to review its policy of offering Tamiflu to all patients with swine flu symptoms.

The findings have been published within days of Government figures showing a jump in the number of swine flu cases in the last week. Experts have been predicting a second wave of the disease will hit the UK in the winter months after a lull during the summer break.

There have been 67 deaths linked to the virus in England, nine in Scotland, two in Northern Ireland and one in Wales. More than 1.3 million people have been assed via the National Pandemic Flu Service for England with 522,890 collecting anti-viral drugs.

The Government is currently waiting for European regulators to license a swine flu vaccine before issuing it to health workers and at-risk groups across the UK.

Earlier this month prescribing experts called for the NHS to urgently review the use of Tamiflu, with concerns that the public has been misled about the effectiveness of the drug.

One GP, who did not want to be identified, told Pulse that a patient had died from meningitis after being wrongly diagnosed over the telephone. Two other practices, in Dorset and Wiltshire, also reported that one of their patients had died. There has been a range of lesser side-effect to anti-viral treatment including, diarrhea, vomiting and lethargy.

Dr Ellen Wright, a GP in Greenwich, south London, whose son contracted swine flu early in the first wave, said mild adverse reactions to anti-viral drugs had been widely reported.

She added:
"There have been a lot of complications, especially in children given it in schools at the beginning of the outbreak, and I suspect that is what a lot of GPs have been seeing."
A family doctor in Derbyshire reported the case a three year old girl who was diagnosed with swine flu and prescribed Tamiflu by the National Pandemic Flu Service.

She was later found to have bacterial pneumonia and admitted to hospital a few days later.

The GP said:
"It was unlikely she ever had swine flu. It is near-impossible to diagnose a febrile illness over the phone, and I am afraid one could miss meningitis or other serious illnesses by presuming it is wine flu."
Another GP in Tyne and Wear reported that one of her patients who was initially thought to have swine flu was later diagnosed with salmonella.

The patient was later admitted to hospital after extreme dehydration as a result of the food poisoning. A deal has been struck with GPs in the UK, who will receive £5.25 for each dose of the swine flu vaccine they give to patients. It is hoped that at-risk groups, such as those with diabetes or asthma, will be able to get their normal seasonal flu jab at the same time.

However, GPs are being told not to hold off starting the seasonal flu vaccine program until the swine flu vaccine arrives.

A total of 132 million doses have been ordered by the UK Government - enough for the entire population with two doses each.