by Susanne Posel
July 26, 2014
from OccupyCorporatism Website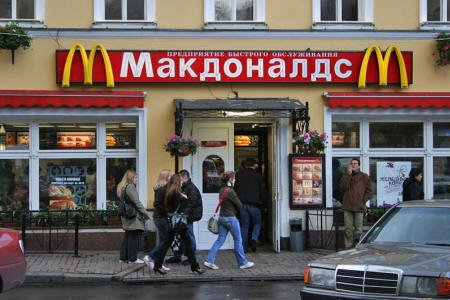 According to RIA Novosti, Russian funded media, Ekaterina Korotova, press secretary for the Moscovite Tverskoi court, said that,
"the court could ban the production of cheeseburgers, Royal Cheeseburgers, Filet-o-Fish sandwiches, Chicken Burgers, as well as milkshakes and ice cream with fruit toppings."
In a statement, Rospotrebnadzor said McDonalds,
"Caesar wrap sandwiches and a vegetable salad were contaminated with coliform bacteria, which indicates the likelihood of food poisoning."
In a court case brought by Rospotrebnadzor, a consumer watchdog group, the organization alleged that,
"McDonald's products contain more fat, protein and carbohydrates than are allowed by the country's 'technological norms'."
Rospotrebnadzor is short for the Federal Service for Supervision of Consumer Rights Protection and Human Well-Being, which is the governmental agency tasked with protecting consumer rights in Russia.
This agency was originally a branch of the Russian Ministry of Health Care (MHC); however since 2012, the group,
"reports directly to the Russian government".
The regulatory responsibilities and oversight tasked to Rospotrebndzor includes:
Performs the sanitary control, control and issuing some kinds of permissive documents

Performs licensing of certain kinds of activities

Performs certification of different objects of evaluating of conformity to Russian legislation

Performs sanitary certification of production according to the requirements of the Customs Union

Performs state registration of production of the RF (excepting medicaments)

Performs state registration of production of the Customs Union on the territory of Russia (excepting medicaments)
Anna Popova, chief sanitary officer for Rospotrebndzor explained:
"Rospotrebnadzor has grievances about product quality and safety of the McDonald's fast-food restaurant. We have identified violations which put the product quality and safety of the entire McDonald's chain in doubt."
Nina Prasolova, representative for McDonalds, commented:
"The company had not received an official complaint from either the court or Rospotrebnadzor, and that the nutritional information of its food was based on the methodology approved by the Food Institute of the Russian Federation."
American media claims Rospotrebndzor,
"has previously been accused of acting in the political interests of the Kremlin, banning Georgian wine as Tbilisi strengthened ties with Washington and spirits from Moldova after the former Soviet republic boosted its drive to partner with the European Union."
Other media outlets suggest that this accusation by Rospotrebndzor against McDonalds is somehow tied to the downed Malaysian flight MH17 that was allegedly shot down by pro-Russian soldiers.
Shockingly, McDonalds announced they are "sticking with OSI Group", the Illinois-based meat supplier that was caught providing expired food that was reconditioned to their corporation; as well as YUM Brands, including KFC and Pizza Hut.
McDonalds said in a statement:
"According to OSI, Chinese authorities have inspected Husi's other facilities, allowing us to confidently serve our customers."
The fast-food chain is sourcing,
"sourced chicken, beef, pork and lettuce from Shanghai Husi" and will accept products from a "new state-of-the-art facility in Henan."
YUM Brands and Starbucks have stopped purchasing products from OSI Group because of the scandal.