by Bryce
April 04, 2015
from LivingBigInATinyHouse Website
About Bryce
I'm currently in the process of designing and building the next generation of Tiny House. I'm passionate about small space design, permaculture and downsized, eco-friendly living.

While the tiny house movement has been gaining more and more traction, one man has already planned and developed his own, designed to send you back in time.
"Underhill" is an incredible, hobbit-like eco-cave house built into the hillside of a Waikato (New Zealand) farm. The house is cleverly constructed to resemble a cave and looks like something Bilbo Baggins would be proud to call home.
This earth-built house has no electricity, uses local stone and wood, and features rustic materials which make it look like it is straight from The Lord of the Rings movies.
Bryce and his team at Living Big in a Tiny House have done a wonderful job of capturing the essence of this unique and rustic tiny home.

With no electricity in the house, the stone, wood and rustic features truly make you feel like you're stepping back in time.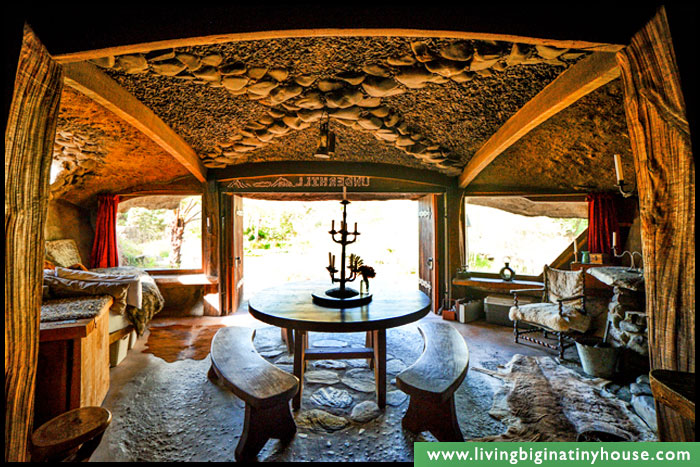 Everything inside this tiny cave house has been expertly crafted out of high quality materials. The end result is a beautiful, cozy home that is filled with rustic charm.
The round table in the centre of the house creates a fantastic area for entertaining and socializing.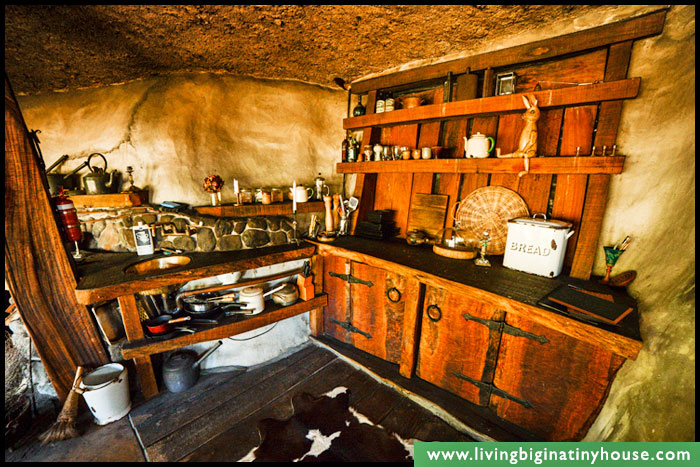 A sturdy country-style kitchen adds even more character to the home, whilst also being fully functional. The cupboards are all made out of heavy duty macrocarpa and the iron-work is all custom made.


On cold nights the antique coal range becomes the focus of the home. The range is responsible not only for space heating, but is also acts as a stove oven, and heats water for the house.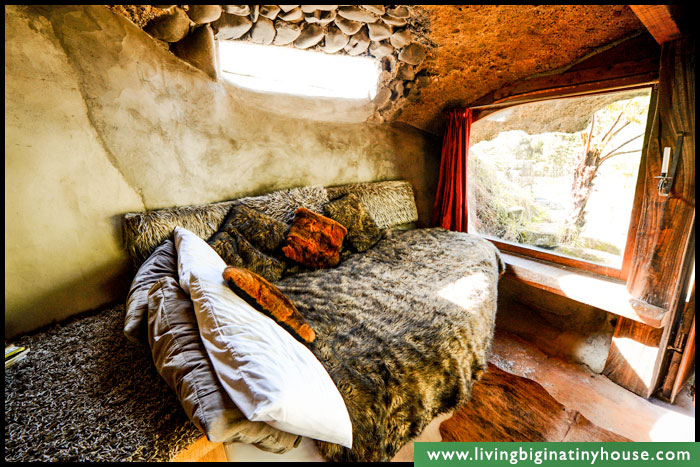 There sleeping area is just beautiful. The custom made bed is an unusual shape, but wonderfully comfortable. A skylight above the bed has been cleverly fashioned out of an old car windscreen allowing you to watch the stars above you at night.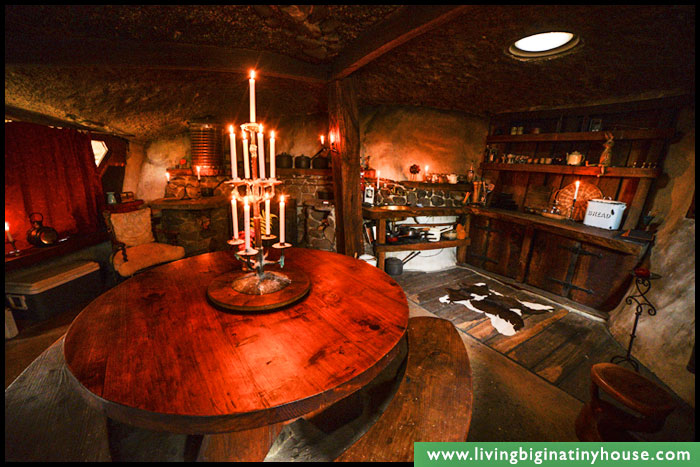 There is no electricity at Underhill so nighttime is filled by the beauty of candle light. The decision not to run power to the cave house was made to help fortify its role as a true place of escape.
Having no power encourages people to leave their phones and computers behind and enjoy relaxing in the wonderful natural environment.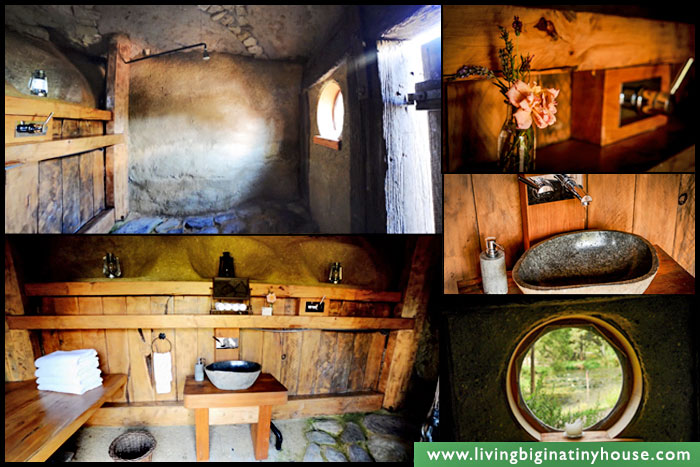 The bathroom is located in another cave next to the main house. Water in this cave is heated by a gas califont and sourced from a local spring. Again, the space is wonderfully rustic with incredible wood and stone work.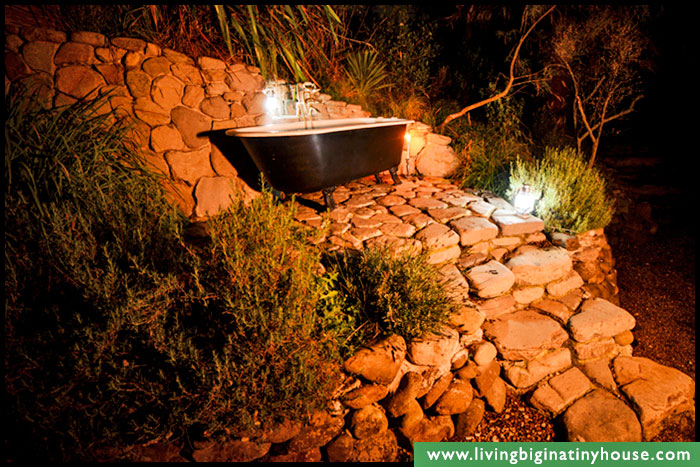 Outside the bathroom cave sits a beautiful cast iron outdoor tub. In the daytime, this tub enjoys spectacular views of the valley and pond feature and at night, unrivalled views of the night sky above.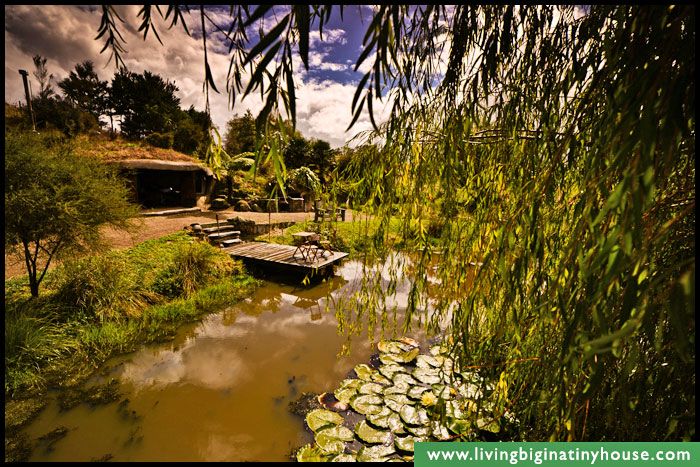 The cave is situated amongst some of the most breathtaking natural scenery with incredible gardens, and a spectacular feature pond in the middle. The area surrounding Underhill Valley is a working farm with cattle and even lamas that often come down to visit the cave house.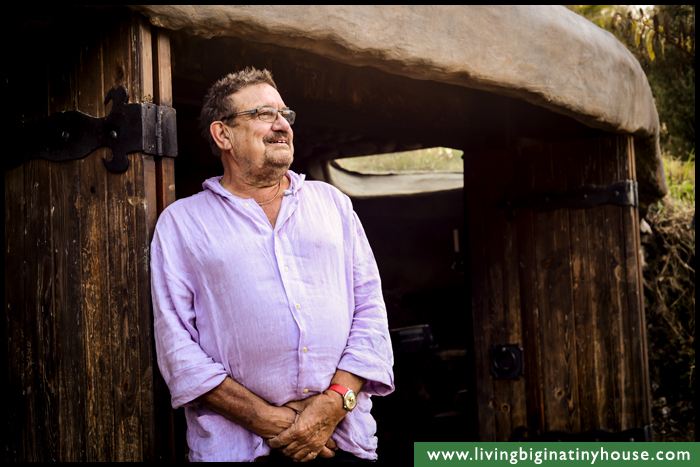 Underhill is the realized dream of Graham Hannah, who built the incredible cave as a haven for his family and children. The land is now owned by his daughter and is currently operated as a boutique bed and breakfast.
For those of you who are interested in staying a night at this wonderful cave house, you can find out more here.
Video