October 25, 2010
from ActivistPost Website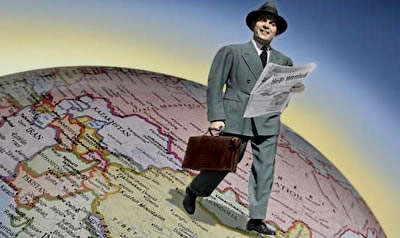 Okay, you're upset with the direction America is headed and you've been thinking of moving to another country.
Perhaps you feel exhaustively cynical about the political, economic, or social situation in the U.S. and think it is beyond repair. You wouldn't be alone. Many top economists and other trend forecasters are now openly predicting that a total economic, environmental, and social collapse may be imminent in America.

Americans, young professionals and baby boomers alike, are increasingly saying that their main desire for moving out of America is to seek "political asylum" of sorts.
In the past, this political discontent was typically drawn along party lines - under Bush's 8 years the exodus mainly consisted of bitter Democrats, while as recently as March Rush Limbaugh declared, half-jokingly, that he'd move to Costa Rica if "Obamacare" became law.
However, these days, more Americans have grown cynical of the system itself and have given up on left-right politics.

Many believe that dropping out of the system as much as possible is the best form of protest. And now, because many people can telecommute through the Internet, it seems that living outside the U.S. is more do-able than ever. Furthermore, the lower cost of living in many other countries may actually increase the standard of living for some people.

Surely, America will rebound from its eventual collapse, much like Russia and Argentina have, but it might make for uncomfortable sacrifices in America during the next decade. More Americans are looking to "ride out the storm" elsewhere, while others desire to become permanent nomads seeking foreign opportunity and adventure.

It should be noted that no country is perfect and you'll face challenges no matter where you go.
You'll find that modernization and rampant consumerism is expanding into almost every corner of the world. Some view this as a good thing, as more American comforts can be found, while others view it as a cultural blight to foreign lands. Your expectations must be kept realistic in that you may not find paradise, but your expat adventure may ultimately lead to a more peaceful lifestyle.

The criteria for countries of safe haven include social stability, economic opportunity, freedom of self-expression, relative self-sufficiency, and an essential local community strength.
These critical components are the foundation for living life with a greater sense of independence.

Here are our 5 best countries for Americans to escape the decline:
Uruguay

Uruguay, whose official motto is "libertad o muerte (liberty or death)," is located in South America, southwest of Brazil and east of Argentina.

Uruguay borders on the Atlantic Ocean and has developed infrastructure, a stable democracy, European flair, and rich culture that draws many expats to her borders.

Uruguay is a constitutional democracy with one of the most developed economies in South America, possessing a high GDP per capita.

Between the years 2007 and 2009, Uruguay was the only country in the Americas which didn't technically experience a recession, and now has the lowest Income Inequality and highest Quality of Life in Latin America (below image), second only to Canada in all the Americas.

Uruguay is rated as the least corrupt country in Latin America with its political and labour conditions being among the freest on the continent.

In 2010, Uruguay became the first nation in Latin America to test hemp cultivation, while no drugs are illegal for personal consumption. Located entirely in the temperate zone, Uruguay provides an excellent climate for growing.

Housing costs are much lower than the United States, as well as health care and food.

Some consumer products such as cars and electronics can cost more, as well as Internet connection fees. Americans can buy real estate and own businesses, and they have an automatic 90-day visa to explore Uruguay.

Americans only need to have a proof-of-income of $500/month to apply for residency.