01 December 2008
from BlipTV Website

Presentation by Angelika Whitecliff at the Earth Transformation - New Science, Consciousness & Contact - Conference, Hawaii, May 16, 2008.
From the difference between the consciousness of ETs & yogis to the coming 'supra-consciousness' which unites all and transcends human cycles, find out why the Earth is unique in the universe and the goal of human evolution from now to the birth of the coming 'Supra-human' being.
---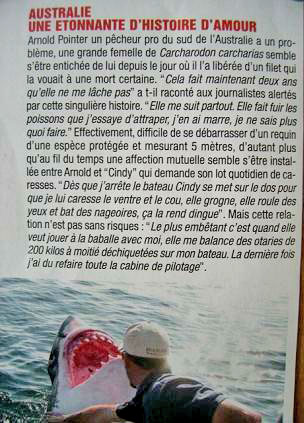 A Sharks Love for Man - This is AMAZING
from SlideShare Website
LOVE STORY

The French Magazine "Le magazine des voyages de pÍche" in its 56th edition, brought up an amazing news.
An astonishing love story.
"Arnold Pointer a professional fisherman from south of Australia set free from a certain death a big female White Shark that was caught in his fishing nets. Now the fisherman has a problem.
He says:
"It's been 2 years and she doesn't leave me alone. She follows me everywhere I go and her presence scares all the fishes. I don't know what to do anymore."
It is hard to get rid of an almost 17 feet long shark since the White Sharks are protected by the wildlife conservation, but a mutual affection established between Arnold and "Cindy".

Arnold Says:
"Once I stop the boat she comes to me, she turns on her back and let me pet her belly and neck, she grunts, turn her eyes, and move her fins up and down hitting the water happily..."