by S. D. Wells
October 09, 2011
from NaturalNews Website

New studies reveal that levels of BPA are massively higher in humans than previously assumed, causing major concern for what has been downplayed by the packaging industry as a false alarm.

BPA, or Bisphenol-A, leaches into food from plastic packaging and from the linings of canned foods, causing cancerous tumors and developmental disorders, including,
learning disabilities

attention deficit disorder

deformations of sexual organs, especially in newborns
The CDC estimates that over 90% of people in the U.S. are chronically exposed to BPA at over 3000 times the daily level that the FDA reports.
Maybe this monstrous difference comes from the fact that the FDA standards ignored more than 100 credible research experiments and studies other than their own.
The new FDA regulatory language offers to seek,
"further public comment and external input on the science surrounding BPA,"
...but industry lobbyists argue about "safe levels" and do their best to muddy those waters in order to keep the profits margins maximized.

Much of the latest research and testing of chemicals in foods is being conducted by the very companies that sell them, or by independent labs hired and well paid to conclude that there is,
"insufficient evidence of levels harmful to humans."
The FDA and the CDC use the rationale that what kills rats in labs may not have the same effect on humans, but this time, hundreds of tests done on humans reveal otherwise.

The BPA label is either on the side or bottom of bottles in black or clear numbers, usually inside of the recycling sign formed by circular arrows.
The number 2 means your food is contaminated by aluminum and polyethylene plastic, and the number 7 means there is BPA in your polycarbonate container.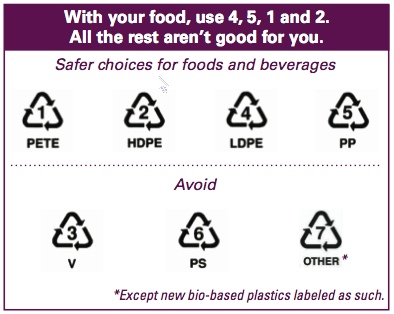 To make things worse, if the bottles or cans have been sitting on the shelf at the grocery for months, the toxic levels of BPA are higher, and since there's no "born-on date," like beer might have, there's no telling the age of the container.
Also, if the plastic gets heated up, like in a car, more toxins are released into the drink. Plus, canned goods are sterilized at up to 265% Fahrenheit, so the level of BPA released in those foods is horrendous, not to mention the fact that all of the nutrients at that temperature have been depleted from the source.
Metal cans have no warning or indicator whatsoever about BPA.

The remedy is to simply buy glass only and not have to worry about BPA, but then don't forget to check for,
sodium benzoate

BHA

BHT

EDTA,
...and the other "preservative" criminals.

BPA was originally developed in the 1930's as a synthetic version of the female hormone estrogen. BPA is an endocrine disrupter, meaning it is a chemical that interferes with the hormone system in animals, including humans.
Wondering why kids are more hyperactive these days and the doctors suggest prescribing ADHD pharmaceuticals? Bisphenol-A mimics estrogenic activity and enhances mesolimbic dopamine activity, which results in hyperactivity and attention deficits.
Still have canned sodas on your grocery list?

Ordered up by the USA at 8 billion pounds per year, BPA is one of the highest volume chemicals produced by mankind, having adverse effects in mammals and invertebrates all over the world. Canned goods sell particularly well in times of recession and financial stress. In February of 2009, the United States saw an 11.5% rise in canned food sales alone. The highest concentrations recorded are in chicken soup, infant formula and ravioli.
By the way, it's also in your dental fillings.

The EPA has not even evaluated BPA for possible carcinogenic activity, and food packaging executives and lobbyists are still planning to use a pregnant woman in their advertising in order to reassure Americans that BPA is safe for children.
Remember, an advertisement's slogan is often a cover up for the product's greatest weakness.


Sources
Poisoning Us
by Kim Evans
October 09, 2011
from NaturalNews Website
The Breast Cancer Fund recently tested 12 brand name canned soup and pasta products and found Bisphenol A, or BPA, in all of them.
BPA is a hormone-mimicking toxin that also has recently been found to impact our DNA and to kill off female ovarian cells in a way that may cause Down Syndrome and fertility problems in future generations. While BPA shouldn't be in any of us, children are thought to be the most susceptible and the soups and pastas tested were marketed toward children.

In the testing, 34 to 148 parts per billion of BPA were found in the soups and 10 to 34 ppb in the pastas.
A few months ago, the FDA also found BPA in 71 of 78 canned goods they tested. The FDA also tested different types of foods, including canned tuna and vegetables, and in these foods they found much higher levels of BPA - ranging from 300 ppb to more than 700 parts per billion.

Some research shows that BPA is eliminated quickly from the body, but the problem with this research is that it looks at it from a one-time dose situation, as opposed to a more true to life repeated exposure situation. And with continual exposure, it tends to accumulate.

Canned foods are also not the only foods contaminated with BPA; it's also in plastic wrapped food products. And according to Environmental Working Group research, it's in the blood of 9 out of 10 infants at birth.

Cheryl Rosenfeld and her colleagues from the University of Missouri, Columbia looked at BPA exposure from a different angle and tested mice with a more true to life scenario.
They fed these mice food laced with a little BPA each day and found that with chronic dietary exposure, the animals exhibited,
"the potential to bioaccumulate BPA over time."
Then Rosenfeld tells us that there's no reason to expect the human body would respond any differently.

The researchers also found that BPA absorbs in the body in a greater degree when it is consumed with food, rather than taken as a one-time dose without food.
"What we found," Rosenfeld said, "is that when animals are exposed through the diet, they actually show increased absorption of BPA" as opposed to when they get a single larger dose.
[Editor's Note: NaturalNews is strongly against the use of all forms of animal testing. We fully support implementation of humane medical experimentation that promotes the health and wellbeing of all living creatures.]




More