December 02, 2010
from PreventDisease Website
A chemical in popular toothpastes and soaps has been linked with brain damage to fetuses.

If you are not yet aware of the potential dangers of triclosan, you should know that this antibacterial agent has been strongly linked to the following effects on human health:
Abnormalities with the endocrine system, particularly with thyroid hormone signaling

Weakening of the immune system

Birth defects

Uncontrolled cell growth

Unhealthy weight loss
Scientists fear pregnant women who are exposed to high levels of triclosan, may be putting their babies at risk.

Alarming new findings suggest triclosan may disrupt the flow of blood to the uterus, starving a baby's brain of the oxygen it needs to develop properly. Researchers involved in the study called for urgent investigations into the dangers to unborn babies.

Professor Margaret James of the University of Florida said:
'We know it's a problem. But we just don't know how much of a problem.'
Triclosan is a powerful anti-bacterial that was developed nearly 50 years ago.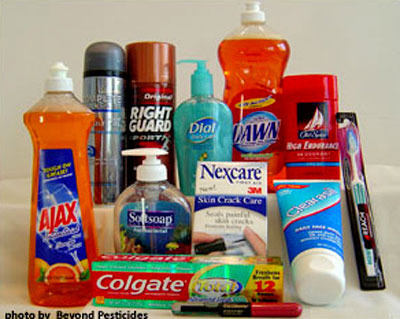 It is now commonly used in everything from toothpastes, deodorants and handwashes to washing-up liquid, anti-bacterial chopping boards and even some toys. However, it has been dogged by concerns over its safety and earlier this year the Food and Drug Administration in the U.S. announced it was carrying out a major review on its safety.

In the latest study, tests on sheep showed it interferes with an enzyme that allows the hormone estrogen to circulate in the womb. Estrogen helps to keep open the main artery carrying oxygen-rich blood to the fetus.

If there is too little, this artery narrows and oxygen supplies are depleted.

Although triclosan is best known for its presence in many brands of antibacterial soap, it is also found in a wide variety of personal care and household products. According to BeyondPesticides.org, triclosan is found in the following products:

Soaps:

Dial® Liquid Soap

Softsoap® Antibacterial Liquid Hand Soap

Tea Tree Therapy™ Liquid Soap

Provon® Soap

Clearasil® Daily Face Wash

Dermatologica® Skin Purifying Wipes

Clean & Clear Foaming Facial Cleanser

DermaKleen™ Antibacterial Lotion Soap

Naturade Aloe Vera 80® Antibacterial Soap

CVS Antibacterial Soap

pHisoderm Antibacterial Skin Cleanser

Dental Care:

Cosmetics:

Supre® Café Bronzer™

TotalSkinCare Makeup Kit

Garden Botanika® Powder Foundation

Mavala Lip Base

Jason Natural Cosmetics

Blemish Cover Stick

Movate® Skin Litening Cream HQ

Paul Mitchell Detangler Comb

Revlon ColorStay LipSHINE Lipcolor Plus Gloss

Dazzle

Deodorant:

Old Spice High Endurance Stick Deodorant

Right Guard Sport Deodorant

Queen Helene® Tea Trea Oil Deodorant and Aloe Deodorant

Nature De France Le Stick Natural Stick Deodorant

DeCleor Deodorant Stick

Epoch® Deodorant with Citrisomes

X Air Maximum Strength Deodorant

Other Personal Care Products:

Gillette® Complete Skin Care MultiGel Aerosol Shave Gel

Murad Acne Complex® Kit®

Diabet-x™ Cream

T.Taio™ sponges and wipes

Aveeno Therapeutic Shave Gel

First Aid:

SyDERMA® Skin Protectant plus First Aid Antiseptic

Solarcaine®

First Aid Medicated Spray

Nexcare™ First Aid

Skin Crack Care

First Aid/Burn Cream

HealWell® Night Splint

11-1X1: Universal Cervical Collar with Microban

Kitchenware:

Farberware® Microban Steakknife Set and Cutting Boards

Franklin Machine Products FMP Ice Cream Scoop SZ 20 Microban

Hobart Semi-Automatic Slicer

Chix® Food Service Wipes with Microban

Compact Web Foot® Wet Mop Heads

Computer Equipment:

Clothes:

Merrell Shoes

Sabatier Chef's Apron

Dickies Socks

Fruit of the Loom Socks

Biofresh® Socks

Children's Toys:

Other:

Bionare® Cool Mist Humidifier

Microban® All Weather Reinforced Hose

Thomasville® Furniture

Deciguard AB Ear Plugs

Bauer® 5000 Helmet

Aquatic Whirlpools

Miller Paint Interior Paint

QVC® Collapsible 40-Can Cooler

Holmes Foot Buddy™ Foot Warmer

Blue Mountain Wall Coverings

California Paints®

EHC AMRail Escalator Handrails

Dupont™ Air Filters

Durelle™ Carpet Cushions

Advanta One Laminate Floors

San Luis Blankets

J Cloth® towels

JERMEX mops
In the UK, the chemical's use is covered by the EU Cosmetics Directive, which says it is safe to use but only in small doses. The maximum content allowed in any product is 0.3 per cent.

Drug giant GlaxoSmithKline has phased out the use of triclosan in its Aquafresh and Sensodyne toothpaste and Corsodyl mouthwash. It is still used in brands such as Colgate Total.

Elizabeth Salter-Green, director of the ChemTrust, which lobbies for responsible use of man-made chemicals, urged pregnant women to avoid triclosan.
'They should absolutely avoid anything with triclosan listed in its ingredients,' she said. 'We don't all need to be using anti-bacterial soaps if we wash our hands properly.

'It has been on our radar for many years and I'm not surprised at these latest findings.'
Additional Information