from BATR Website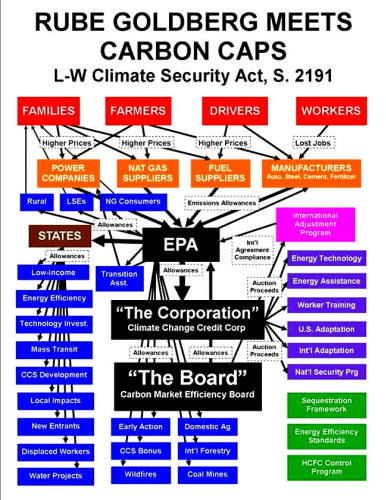 "Nobody in this country realizes that
cap-and-trade is a tax - and it's a great big one."
John Dingell


The latest megalomaniacal threat from the financial globalists wants to saddle the world economy with a cost of trillions of dollars that benefits favorite corporatists.
The phony global warming cult has a core purpose. Their objective is to drive down the standard of living for non-elites and prevent the use of fossil fuel energy. The fallacious science used to create a disinformation scare for politically unsophisticated "True Believers" is a direct result of transnational money manipulators.
The Davos crowd sponsors the educational and media institutions that trump up junk research and manufacture idealistic solutions.
No matter how you slice it, whether we are sending money abroad or fueling corporate welfare here in the United States as well as the egregious practice of crony capitalism, the 2009-Recovery act is a lie, a travesty and a scam, favoring wealthy financial backers of President Obama and the Democratic Party as well as those with influential political connections to both.

And with a president that's dead set on pushing a fierce and radical climate change agenda and funding green energy with taxpayer money, no matter the long list of failures, there is no end in sight to this green corruption scandal.

Besides NextEra Energy taking full advantage of the federal production tax credit (PTC), we now can confirm that the Bank of Obama has rewarded this conglomerate of a power company, and his millionaire job council buddy Lewis Hay, with two large DOE loans ($2.3 billion); one large stimulus smart-grid grant ($200 million); and six 1603 stimulus grants totaling $398.5 million.

Thus NextEra's green tab is on its way to $3 billion of taxpayer money, and that's not factoring in the PTC."