AP Biotechnology Writer
August 01, 2003
from ENN Website
recovered trough WayBackMachine Website
Frankentrees
Are Spreading Across the U.S.


SAN FRANCISCO
Roll over John Muir and tell Johnny Appleseed the news:
Biotechnology is coming to the forest and orchard.
Scientists are planting genetically engineered trees in dozens of research projects across the country.
They are working to create trees that grow faster, yield better wood, produce hardier crops, fight pollution, even serve as sentinels for detecting germ and chemical attacks.

Environmentalists fear dangerous unintended consequences.
"It won't be as widespread as agricultural biotechnology, but it could be much more destructive," said Jim Diamond of the Sierra Club. "Trees are what's left of our natural environment and home to endangered species."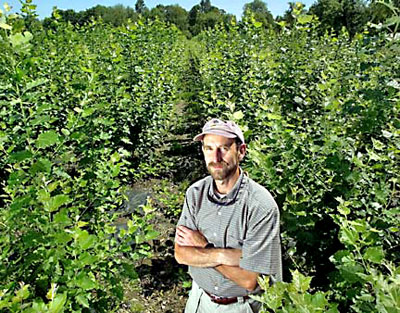 Oregon State University researcher Steven Strauss
stands in a field of genetically engineered poplar trees in Oregon.
He said there is a lot of value in genetic engineering.
The Sierra Club wants a moratorium on the planting of genetic engineered trees outdoors until the science is better understood. But the plea has been like a tree falling deep in the forest.

Tree researchers say their critics are missing all the ways that science can give nature a fighting chance against ravages natural and manmade.

Biotechnology, they say, may provide just what is needed to help reverse global deforestation and industrial pollution while satisfying increased demand for wood and paper products.

Already, biotechnology has been credited with saving Hawaii's $14-million-a-year papaya industry. A virus had wiped out 40 percent of the crop and threatened to destroy the rest before seeds engineered to resist the virus were introduced in 1998. Now the industry is thriving again.

About 230 notices of genetically engineered tree experiments have been filed with the Department of Agriculture since 1989, with about half since 2000. So far, papayas are the only approved engineered tree for market. The rest are still experimental.

Some researchers are infusing trees with genetic material taken from viruses and bacteria that helps them grow faster and fatter and yield better wood. Others are splicing mercury-gobbling bacteria genes into trees, enlisting nature to help clean polluted soil.

Still others are inserting foreign genes that might reduce the amount of toxic chemicals needed to process trees into paper.

Fruit-tree farmers are looking for hardier trees with less reliance on chemical bug and weed killers.

And the Pentagon even awarded Colorado State researchers $500,000 this year to develop a pine tree or other plants that can change colors when exposed to a germ or chemical attack.

Many field trials are backed by paper and timber companies hoping to design trees that yield more wood and paper.

ArborGen LLC, a North Charleston, S.C.-based biotechnology company whose backers include International Paper and MeadWestvaco Corp., said it has 50 field trials under way. Chief technology officer Maud Hinchee said the company's work could reduce reliance on national forests by creating faster-growing trees cultivated on industry plantations.

Poplar, eucalyptus, apple and coffee trees are among those being engineered. Researchers even hope to revive the cherished American chestnut, devastated a century ago by a tree-stunting blight that prevents them from growing higher than shrubs become before succumbing.

All this is being done today because of better understanding of tree genomes. The Dendrome Project at the University of California at Davis offers detailed genetic information on 100 trees on its Web site.

Except for the Hawaiian papaya, no genetically modified tree is expected to be commercialized for the next five to ten years. Trees grow much slower than crops, and genetic researchers need years to compare generations.

Could biotech trees crossbreed with their natural brethren and ruin forests' genetic diversity? The Sierra Club fears that, among other ecological consequences.

Researchers hope to placate critics by engineering sterility into their designer trees, so their effect on the environment can be contained. But that technology remains elusive.

Forestry researchers are proud of their work but have become cautious about disclosing where their genetically engineered trees are growing.

In June, three protesters were arrested after chaining themselves inside a UC-Davis science building to protest tree research. And two years ago, the Earth Liberation Front claimed responsibility for arson attacks in Seattle and Clatskanie, Ore., that caused more than $3.5 million in damage.

Oregon State University researcher Steven Strauss, who tends to a few thousand engineered trees, said some of the protesters' are virtually identical to those of scientists.
After all, he is working to engineer poplars that are sterile.
"The violent guys just don't understand the science," he said. "Genetic engineering is not one thing, it's a thousand things. But the extremes want to stop it all."
Resources