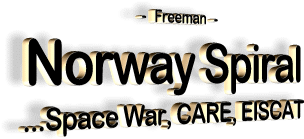 by RedIceRadio
February 04, 2010
from YouTube Website

Our friend Freeman returns to Red Ice Radio to talk about the latest strange developments in the ongoing space war.
There have been so many developments in this department in the last months, especially up in the north. We recently saw the Norway spiral up in Tromsö and aurora light phenomena just a few weeks later.
What part did Scandinavia's HAARP facility EISCAT (the European Incoherent Scatter facility) play in all of this?
There has also been strange pattern showing up on radar over Australia. Large spherical objects have been seen near the Sun by NASA satellites.
Topics Discussed:
LHC (Large Hadron Collider)

Mind Transferring Technology

Alpha-Draconis

Buzz Aldrin says there is a Monolith on Phobos

Kaaba Stone

"Humanitarian Invasion" of Haiti - UK Military leaving Porta-au-Prince shortly before the Earthquake

Gold, Iridium, Resources and more...