January 3, 2011
from AlterNet Website
Even without federal policies to catapult the U.S. to the world's leader in renewable energy, solar and wind energy has the potential to significantly increase its capacity.
---
Stefanie Penn Spear, founder and executive director of EcoWatch and president of Expedite Renewable Energy, has been working on environmental issues for more than 20 years.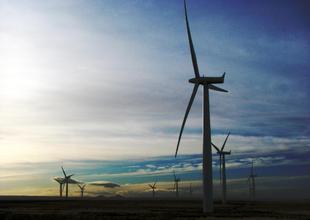 A Renewable Energy World
Photo Credit: Image by Taylor Dundee via Flickr

What resources are used to power the electricity grid will certainly continue to be debated throughout 2011.
And what actions will be taken in the 112th Congress on electric power generation is yet to be seen, but passing a national Renewable Electricity Standard (RES) or any form of carbon cap and trade bill seems highly unlikely.
Even without the necessary federal policies to catapult the U.S. to the world's leader in renewable energy installations and manufacturing, solar and wind energy has the potential to significantly increase its capacity in 2011.

The one-year renewal of the U.S. Treasury 1603 grant program, allowing investors to receive a 30 percent grant in lieu of a tax credit on renewable energy projects, and accelerated depreciation benefits passed in the lame duck session, will greatly benefit distributed generation and utility scale projects in 2011. The number of distributed generation or behind the meter on-site projects installed in 2011 will be directly related to incentives available in each state.

For example, in Ohio, the failure to renew the Advanced Energy Fund, a grant program providing up to $200,000 for renewable energy projects, will greatly decrease investment in on-site projects unless developers and advocates are able to get another incentive passed in the Republican-controlled Ohio General Assembly and governor's office.
However, states like Pennsylvania, whose grant incentives remain strong, will continue to reap the economic growth and job creation from investment in renewable energy projects. Investment in utility scale projects will also be impacted by state incentives typically focusing more on a state's tax structure than grant programs.
With more than 29 states having passed an RES you would assume these states would keep the necessary incentives strong to ensure the RES goals are obtainable, but with new political leaders in many of these states it is hard to tell how hard they will work to base a significant percentage of their electricity usage on renewable energy generation.

The value of renewable energy credits (RECs) - tradable, non-tangible energy commodities in the U.S. that represent proof that one megawatt-hour of electricity was generated from an eligible renewable energy resource - will also play a role in the amount of installed capacity in 2011.
In states where grant incentives are drying up, RECs play an enormous role in making projects financially viable. In addition to the issues associated with the fluctuating market of RECs, many states might start seeing a flooding of the REC market as large megawatt projects are installed in their state. If these large projects are eligible for the respective states REC program, it could significantly decrease the amount of distributed generation projects since these projects would not be economically viable without the revenue generated by selling RECs.
However, some states, like New Jersey, Massachusetts and Delaware, have passed policies to ensure this does not happen. Hopefully states like Ohio will follow the lead put forth by other states to encourage the installation of on-site renewable energy projects.

Another potential delay to increased distributed generation wind capacity in 2011 is the lack of a streamlined process for environmental regulation and siting of projects.
The impacts to Bald Eagles, Indiana Bats and other wildlife from single turbine projects is not well documented and therefore projects are delayed or withdrawn after being denied federal funding from agencies like the U.S. Department of Agriculture Rural Development if they did not receive a green light from governmental agencies such as the U.S. Fish and Wildlife and Department of Natural Resources.
The contradiction here, of course, is that reliance on renewable energy generation actually improves the health of wildlife by reducing mercury pollution in the air and water.
There is no question that proper sitting of renewable energy projects is critical to the success of this industry, but when viable projects are derailed due to a lack of well-defined regulations by agencies it reduces installed capacity.

Monitoring what the U.S. decides to do in 2011 is only half the battle, especially when you contemplate that half of the 6 billion tons of coal burned globally each year is burned in China with many other countries like India significantly increasing their daily appetite for electricity. In addition, U.S. coal exports are on the rise.
China is now importing higher-grade, low-sulfur coal from places like the Powder River Basin of Wyoming and Montana and this year's Energy Information Administration, the official energy statistics from the U.S. government, projects China's coal consumption doubling by 2035.

What will happen to the price of coal-fired electricity as we increase its export and continue to heavily rely on this non-renewable source of fuel is yet to been seen.
Since we have truly never paid the true cost for coal power and the industry continues to be greatly subsidized by the government, one would assume that sooner than later the price for electricity will skyrocket.
Hopefully by then we will have the right policies in place on the state and federal level that will encourage investment in renewable energy projects, level the playing field between renewable and non-renewable energy generation, ignite the U.S. as a leader in the manufacturing of renewable energy equipment and rebuild our economy by putting people back to work by relying on cleaner sources of fuel.

There is a lot of work to be done in 2011.
It is a time when renewable energy developers, advocates, governmental agencies and political leaders will need to work together to encourage the adoption of policies that reduce our dependency on coal and strengthen our economy.