by Sterling D. Allan
February 3, 2014
from PureEnergySystemsNews Website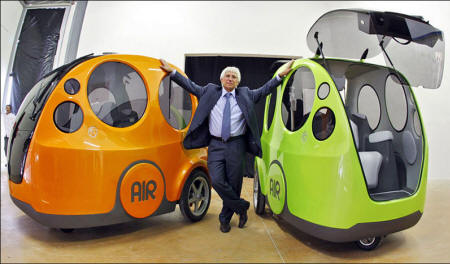 Just prior to release of a new air car,
Karl Slym's body was found on the balcony of 4th floor,
having fallen from the 22nd floor of the Shangri-La hotel in Bangkok
where he had been staying.
It turns out his wife wrote the suicide note.
Why are the officials still ruling this a suicide?
This morning, John Kuhles linked to his Facebook post about the "suicide" of Tata Motors Managing Director, then commented to me:
Another death of someone trying to bring about clean energy & super efficient cars! Goes to show that the oil companies will not allow anyone to show there are other alternatives.
I immediately replied:
We're in a war. There are going to be fatalities. But I know a lot of soldiers in great shape, doing well in the battle. We're going to win.
Here's a link to a pretty decent Google translation to English of the article he was citing. For those of you not familiar with the situation, briefly, here are some of the relevant tidbits.



About the "Suicide"
LeMonde.fr reported on January 27:
While Karl Slym, Columbia, 51, was in the Thai capital to attend a board of Tata Motors Thailand Ltd., his body was found Sunday on a balcony on the 4th floor of the Shangri-La Hotel where he was staying.

"Initially, we can only assume that he committed suicide," said Lt. Col. police Somyot Boonnakaew. "The window was small and he had to make an effort to go through."

The alleged suicide letter, found in the room, was sent for analysis to verify that it is in his writing, he has added.

Police believe a woman [wife] Slym was in the room at the time of his death, but said it was at this stage too "shocked" to answer questions from investigators.

Sunday, the automaker announced that its CEO [Managing Director] was killed in a fall, while the Indian press stated that he had lost his balance before falling into the void.

Karl Slym had joined Tata Motors in 2012 and was responsible for operations in India and in international markets, except for Jaguar and Land Rover. Graduate of Stanford University, he was previously vice president of a joint venture of General Motors in China, SGMW and president of General Motors in India.

It is he who has sought to reposition the Nano (the car in 2300 dollars Tata Motors) as a "second car" or a cheap alternative to scooters, after its commercial failure, reports Les Echos.
Then, on January 28, The Financial Express wrote:
In a fresh twist to the death of Karl Slym..., Thai police said today that the 3-page handwritten 'suicide note' found in his hotel room, was written by his wife, Sally.

The note mentioned "domestic problems", Police Lieutenant Somyot Booyakaew said.

"The letter was written by Karl Slym's wife about domestic problems," Somyot said, adding that Slym's death was not a murder.

51-year-old Karl Slym's body was found on Sunday by the staff of the riverside Shangri-la Hotel on the balcony of the fourth floor after plunging from the 22nd floor...

Somyot earlier said there were no signs of a struggle in the British national's room, which did not have a balcony but had a big sealed glass window and another smaller window that could be opened.

The room has a big sealed window overlooking the Chao Praya River and a smaller window which could be opened nearby. The police said yesterday that they were translating the note into Thai language as part of the investigation.

Sally, Karl Slym's wife of 30 years, was with him in the room and was woken by hotel staff on Sunday morning after they found his body.

Karl Slym was leading Tata Motors at a time when the auto industry was grappling with a prolonged slowdown.

He joined the auto major in 2012 as part of a major management overhaul and was responsible for charting the company's strategy to regain momentum in the Indian market.
Several things are not adding up.
The wife is awoken by staff, who informed her of finding his body. The wife wrote the suicide note.

I asked my wife, Cheri, to tune in energetically and see what she picks up. She said that,
it was not suicide

the wife was probably framed, forced to write the note
Just from a purely forensics point of view, I would think that the fact that the wife wrote the suicide note in a way to look as if he wrote it, argues against suicide.
She was either complicit or forced, and he did not kill himself.

That the officials are still ruling it a suicide, under these conditions, points to someone very powerful being involved, to pull those kinds of strings. I couldn't find any stories (didn't look too hard) reporting that the officials had changed their supposition.

Apparently, the "suicide" is having its desired effect.
Twelve hours ago, NWO-controlled Bloomberg reported: Tata Motors Risk Rises as Slym Death Clouds Plans - India Credit.
"Bond risk for Tata Motors Ltd. (TTMT) is climbing at the fastest pace in more than two years as the sudden death of the head of its India operations threatens efforts to reclaim market share."
About the Air Car
Reseauinternational.net reported on January 30:
It was to be released in late 2013, but then changed to arrive in early 2014.





The Air Car, developed by ex-Formula 1 engineer Guy Negro MDI based in Luxembourg, uses compressed air to push the pistons of the engine and move the car.

The Air Car, called the "Mini CAT" could cost around 365,757 rupees in India or $ 8,177 i.e. € 5,225

The Mini CAT which is a simple light urban vehicle with a tubular chassis, a body of fiberglass that is glued not welded and powered by compressed air. A microprocessor is used to control all the electrical functions of the car. A small radio transmitter sends instructions to the lights, turn signals and all other electrical equipment on the car. Not many.

The temperature of the clean air expelled by the exhaust pipe is between 0-15 degrees below zero, which makes it suitable for use in the system of internal air without the need for gases or loss of power .

There are no keys, just an access card which can be read by the car from your pocket. According to the designers, it costs less than 50 rupees (€ 1 = 69 rupees) per 100 km, it is about a tenth the cost of a car running on gasoline.

Its mileage is about double that of the most advanced electric car, a factor which makes it an ideal choice for urban drivers.

The car has a top speed of 105 km/hour (perfect since it must not exceed 90 or even 70 km/h and 50 in the city) or 60 mph and have a range of about 300 km or 185 miles. Filling the car will take place in suitable gas stations with special air compressors.

Fill only take two to three minutes and cost about 100 rupees (€ 1 = 69 rupees) and the car will still be 300 kilometers. This car can also be filled at home should then 3-4 hours to fill the tank, but it can be done while you sleep.

The tank can be recharged via a single electrical outlet 4 h at a cost of 1.50 € and allows a range of 150 km.

TATA MOTORS is currently working on a compressed air pump, which would make a full tank in 3 minutes flat at a cost of around € 2.50.

Because there is no combustion engine, changing the oil (1 liter of vegetable oil) is necessary only every 50,000 km or 30,000 miles. Thanks to its simplicity, there is very little maintenance to be done on this car.
I sent an email to Tata Motors, and have been trying to call, but their phone has been busy all morning.
I asked them if the official ruling is still "suicide", and if so, do they buy that, or if they are going to do what they can to see that justice is done to whoever was involved in the murder.