THE SONS OF THE SERPENT TRIBE
THE OLD BATTLE-AXE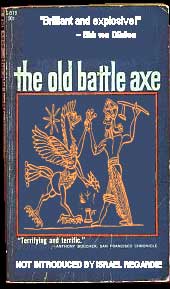 INTRODUCTION
WE COME now to a description of the 22°, and the part it plays in our story. Actually, in our story it plays a small role, but the importance placed upon the Druzes is significant enough for us to dwell at some length upon some of the details. Externally the 22° is a degree that pertains to labor, to the exaltation of hard work, like the work performed by the Sidonians, who are said to have hewed the Cedars of Lebanon, for the Ark, for the Desert Tabernacle, for the Temple of Solomon.
However, we shall see that in the symbols, in the Jewel, the Royal Axe, in the Words, in the concentration upon the Druzes, et cetera, there is more than meets the eye.
We shall see survivals of the Old Religion, that of Sumer: or, actually the Phoenician and Syrian versions of it. We have dealt in detail upon the Serpent Tribe, and in the Druzes we see yet another branch of the family. We have also sought after the connections between the sects of antiquity and the Crusaders. We have demonstrated how the Ophites were not merely a sect of heretics, but a race run by priest-kings, a race that migrated from not only Mesopotamia, but India and Ethiopia.
The 'historical' basis of the degree matters little, although we can state that the history of the Lebanon region goes back to the days of Gilgamesh and beyond. Readers of Sitchin's works know this (even if this is considered to be popular armchair material by now).
The significance of the Axe, too, in ancient times is rather profound. So, then, we have some material worth covering. We shall begin with a look at the degree itself.