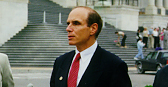 As one of the leading congressional proponents of U.S. assistance to the people of Afghanistan during the Soviet invasion and occupation, Don Ritter continues to seek to build international support for solutions to Afghanistan's problems.

Don Ritter is Chairman of the Washington, D.C.-based, Afghanistan - America Foundation. Ritter seeks to build this organization into a national and international vehicle that will help to bring peace, stability, and prosperity to Afghanistan.

Don Ritter was a leader of the American effort to help the people of Afghanistan throughout the 1980s, working closely with Afghan community and resistance leaders here and abroad. He was the first member of Congress to act publicly using his position as senior member of the Congressional Helsinki Commission to engage that body in the Afghan human rights and policy debate. Ritter, the Chairman of the Afghanistan - America Foundation, is the only high level body in Congress to give consistent voice, both public and private, to the cause of freedom for Afghanistan. In this capacity, he helped lead the fight in Congress for humanitarian and military aid to the people of Afghanistan. Congressman Ritter organized a series of historic meetings of Task Force Members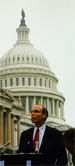 with top governmental officials having responsibility for the Afghan assistance program. The Congressional Task Force on Afghanistan played a major role in moving U.S. policy toward a higher level of positive and practical involvement that helped free Afghanistan from the Soviet military occupation.
Today, Ritter believes that the time has come for the same kind of application of U.S. policy and influence to help free the people of Afghanistan from the terrible violence and division that have pervaded the country. He sees the Afghan community worldwide as increasing its influence in the professional and business world and ready to assume substantial new responsibility to contribute to Afghanistan's future;
Ritter, who holds a doctorate of engineering from Massachusetts Institute of Technology, currently serves as chairman and president of the National Environmental Policy Institute in Washington, D.C.