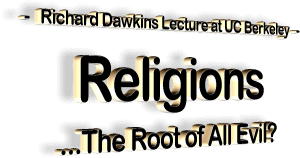 by WeedVoice
March 29, 2012
from YouTube Website
Take what is useful for you...
leave aside the rest...
On Saturday, March 8th, 2008, Richard Dawkins gave this lecture on The God Delusion during his US Tour.
The event took place on the UC Berkeley campus in Wheeler Auditorium, and was completely sold out. A line of hopeful attendees stretched around the side of the building, waiting to see if there would be any 'no-show' tickets at the last minute!
There was a Q&A session that followed the talk, which will be posted to the site soon.