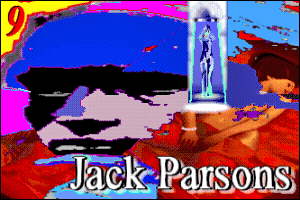 Part 9: Paradise Lost

Gravity was reversed, so I had to climb head-first down the ladder and through the narrow passageway to reach the room that glowed with a weak blue light.

The warm and moist smell of the sea permeated the cavity. I could feel a pulse coming through the borders (walls?) of the room.
"What is that sound?" I asked someone.

"We're vibrating at 7.83 Hertz," the voice said. Then I was alone.
I looked around and saw a statue. For some reason it created an undefined longing. I looked closer.

Then it moved, and as my heart rose to my throat, the room went dark. In fear I reached out, feeling the wall for a light switch. Finally I found one beneath my fingers. I flipped it on. The room remained dark. I flipped it again. Nothing. Then, seized with a sudden terror, I forced open my eyes and turned on the bedside lamp.

I sat up and looked around in confusion, then slowly remembered I was in Pasadena, in a room at the Hilton. The bed coverings were damp and twisted.

The dream still had a physical presence. It felt familiar, like something dreamed once before and since forgotten.

After a while I turned off the lamp and went back to sleep.

---

In her seat on the plane, Trisha ignored the stares of the man across the aisle. She looked at the slip of paper in her hand.

Gravity is the arch-enemy of successful rocket performance.

It had been one of her father's favorite quotations, taken from the Journal of the American Rocket Society, April 1940.

There are many types of freedom, she reflected. Her father had viewed them all of a piece. Freedom meant getting off the planet: escaping from the gravity well. Freedom also meant the right to live the Bohemian lifestyle he preferred. To him, separating these notions into separate spheres, disciplines, or areas of academic or social discourse was absurd.

He was right, of course. She had searched through his manuscripts for years, trying to understand. And one day she had discovered the answer. The same Great Tyrant who had driven their ancestors off the family farm, so to speak, centuries ago, was also the Being that kept mankind imprisoned and exiled on an out-of-the-way planet circling a Type G star.

Because of the Great Tyrant's theft, there had followed century after century of bloody warfare. Trisha sighed. All this over a piece of Middle Eastern real estate.

Well, her father had had his reasons for wanting a moonchild. She had her own.

---

At the Pasadena Public Library I parked behind a car whose bumper informed me sex cures headaches and his other car was a piece of shit too.

The library had microfilms of two local newspapers published in June 1952: The Pasadena Independent and The Pasadena Star-News. I was trying to get a clearer picture of what happened the day Parsons died, looking for anything not reported in the clippings I had gotten from Homer Nilmot.

The Independent for June 18, 1952, cost five cents. The front page headline read:
BLAST KILLS CHEMIST
MOTHER ENDS HER LIFE

House Torn Apart by Explosion
There was a picture of City Patrolman L.D. Harnois inspecting the debris of the destroyed apartment at 1071 South Orange Grove. The story said Parsons had moved from that address on June 1, and he and his wife Marjorie were staying at 424 Arroyo Terrace--where his mother had a summer position as caretaker-- while preparing to leave for a trip to Mexico. Parsons had gone over to the South Orange Grove apartment to gather up some of his supplies.

In the Los Angeles Times article I had read previously, the chronology had jumped from the explosion to Parsons being pronounced dead an hour later at Huntington Memorial Hospital. The Independent filled in some chilling details.
"Parsons body was literally torn apart by the chemical blast.

"The explosion blew off his right forearm, tore a gaping hole in his jaw and shattered the other arm and both legs. He was still conscious after the blast."

Two upstairs occupants, Mrs. Alta Fosbaugh and Salvatore Ganci ran down and found Parsons pinned under two heavy washtubs and one wall. They were able to free him.

Martin Fosbaugh, Mrs. Alta Fosbaugh's son, said Parsons had been experimenting in order to produce a "super" fog effect for motion pictures.

"Several boxes of highly dangerous chemicals were found outside the building, apparently placed there by Parsons a few minutes before the blast."

Parsons could have removed the boxes from the apartment, or taken them there for storage, or anyone else could have.

When informed of her son's death, Parsons' mother became hysterical, began drinking heavily, and was given nembutal tablets. She said: "I can't stand to live without my son; I simply adored him." She said she "had a gun upstairs," and then committed suicide by taking the rest of the pills.
There were a few details about Marjorie Cameron Parsons, Jack Parsons' Scarlet Woman and then his wife. She arrived at 424 Arroyo Terrace unaware that her mother-in-law had just died.
"Stoic in the face of her double loss, she told investigators she and her busband were to leave last night on a pleasure trip to Mexico. The hallway of the two-story Arroyo Terrace mansion was crowded with their packed baggage."
By the following day the rumor mill had gone into action. The front page headline in the Thursday, June 19, Independent read:
LINK LOCAL BLAST VICTIM
WITH WEIRD CULT RITES
There was a picture of Parsons on the front page. The caption read "John W. Parsons . . . spiritual seances?"

The story was based on ten-year old police files.
"John W. Parsons, handsome 37-year-old rocket scientist killed Tuesday in a chemical explosion, was one of the founders of a weird semi-religious cult that flourished here about 10 years ago.

"Old police reports yesterday pictured the former Caltech professor as a man who led a double existence--a down-to-earth explosive expert who dabbled in intellectual necromancy."

After engaging in some corny psychological speculation that Parsons was "trying to reconcile fundamental human urges with the inhuman, Buck Rogers type of inventions that sprang from his test tube," the article noted:

"Back in 1942 Pasadena police received a letter from San Antonio, Tex. The writer, who signed himself `A Real Soldier,' asserted that a `black magic' religious cult was being conducted from a house at 1003 South Orange Grove avenue."
Located at that address was, of course, the headquarters of the California Ordo Templi Orientis as well as Parsons' apartment at the time.

I wondered about the identity of the "Real Soldier." San Antonio?

The Independent article stated the house had been leased to Parsons "and his wife Marjorie" on June 26, 1942. The reporter had the wrong wife, of course. Parsons was still married to Helen Northrup in 1942, and had never met Marjorie Cameron. But possibly Jack and Helen Parsons had first moved to that address in June 1942. Or had Parsons inherited the house from his father then?

After police received the anonymous letter, Parsons was interviewed by Det.-Lt. Cecil H. Burlingame. Parsons said he and others had formed a fraternity which would discuss philosophy, religion, personal freedom, and fortune telling.

Two years later police investigated a minor fire at the house and found books and pamphlets about a "mysterious `Church of Thelema.'"
"Police made no further attempt to probe Parsons' bizarre personal life."
That was reassuring. At least the Pasadena police had the good sense to mind their own business.

After the explosion, cartons of PETN and trinitrobenzine had been removed from Parsons' lab to Ft. MacArthur. Parsons had told a neighbor he was making fulminate of mercury commercially and the current batch would be his last.

Parsons was correct on that account.

Friday's paper reported the funeral under the headline "Hold Secret Funeral Rite for Parsons." Then on Sunday, June 22, the headline read "Police Drop Probe of Death Blast."
"The case is closed as far as we're concerned," Det.-Lt. Cecil H. Burlingame declared." He said a statement by George W. Santmyer "isn't sufficient to warrant us reopening the case."
This was obviously referring to Santmyer's statements reported in Saturday's Los Angeles Times. Santmyer, who had worked with Parsons on a naval ordinance project, had suggested "someone else" had strewn explosive materials around the apartment at 1071 S. Orange Grove. The Pasadena police weren't interested in pursuing that.

I didn't find anything else in the Independent. This was 1952 and people were preoccupied with U.N. troops battling the Reds in South Korea, and with the upcoming presidential elections: Eisenhower and Nixon were running for the Republicans. The front page headline on June 24 announced:
TINY BOX TELLS WHO CAN
LIVE OR DIE IN ATOM RAID
The accompanying article referred to the device as a chemical radiation detector, a "colorimetric dosimeter."
"Every Californian may some day wear one around his neck like an Army dog-tag, according to plans under consideration of state civil defense officials."
Strange world. These were the same people who thought Parsons belonged to a weird religious cult.

I turned my attention to the Star-News, and followed its version of the story, starting again with Wednesday, June 18-- the day following the explosion. The article implied that all four, not just two, of the upstairs residents had pulled Parsons from the debris after the explosion at 5:08 p.m. He had been found lying under a 2-tub laundry fixture.

After dragging Parsons free, they propped him against one wall, where he was found by the city ambulance crew.
"Parsons methodically directed his rescuers, while being loaded into the ambulance."
I thought about that. About Parsons, his limbs shattered, his right forearm blown off, methodically directing the ambulance crew.

Parsons was born Oct. 2, 1914, and was the son of Maj. Marvel H. Parsons and Mrs. Ruth Virginia Whiteside. He had attended the University School in Pasadena.

There were a number of written notes found in the destroyed apartment.
"The notes, most bearing chemical symbols, but a few carrying philosophical and religious references, were found on the blast- shattered ground floor of the structure."
One partially torn note said:
"Let me know the misery totally. And spare not and be not spared. Sacrament and Crucifixion. Oh my passion and shame--."
This was probably jottings for a poem, like the one Parsons had written for Oriflamme.

Others concerned industrial explosions. One read:
"Texas City Disaster Report. 433 dead. 128 missing. (The explosive) cannot be detonated with rifle bullets, blasting caps, or dynamite."
The details of the other notes weren't given, but the article summarized:
"There were other notations about the disasterous electric-plating firm explosion which killed 15 persons in 1947 and another at Parsons' own Aero Jet plant, in which eight died."
Thursday's Star-News:
"Ironically, it was learned that Parsons had been a member of the coronor's jury which investigated the 1947 explosion of a Los Angeles electroplating company which killed 15 workers."
The Saturday, June 21, Star-News reported on Santmyer's statements. Santmyers indicated Parsons was operating a small explosives manufacturing plant in Fontana, and was exploring the possibility of a Mexican branch of his factory. But Parsons' wife Marjorie said no, they were just going to Mexico on a pleasure trip.

The report was bewildering: "Santmyers told press representatives that he specifically wanted to quash reports that Parsons was the victim of a murderer or that he practiced weird religious rites.
" `Jack was the kindest man I've ever known,' Santmyers declared. `He hadn't an enemy in the world.' "
At least part of the statement was plausible. Parsons' problem was he was too nice of a guy. Back in 1945, he had let L. Ron Hubbard move in with him and live off his charity, while Hubbard triffled with Parsons' girl (even if Parsons didn't believe in monogamy) and plotted to steal Parsons' money. Parsons should have shoved Hubbard down the steepest incline of the Arroyo Seco.

But the rest of Santmyer's statements were puzzling. The Pasadena police had assumed from the beginning that Parsons' death was an accident. The reports in the Star-News, the Independent, and the Los Angeles Times all implied accidental death also. The first public indication that there was a problem with the common interpretation was the story of Santmyer's remarks as given in the Saturday, June 21, Los Angeles Times--the report of a "death angel."

Even so, the police had said in the following day's Independent that Santmyer's remarks were not sufficient to reopen he case: meaning the police had interpreted Santmyer as asking them to do just that. But the same day Santmyer talked to the Los Angeles Times, he told a Star-News reporter that he was trying to kill two rumors: the rumor Parsons was murdered, and the rumor Parsons engaged in "strange" religious practices.

Santmyer was protesting too much. There hadn't been any public implication that Parsons was murdered apart from the remarks of Santmyer himself. It certainly wasn't the Pasadena police who had raised that possibility. So who had? Who were Santmyer's denials addressed to? It might have been the Army Ordinance experts at Ft. MacArthur. They could have found suspicious circumstances surrounding the explosion at 1071 S. Orange Grove.

In addition, the ten-year old police reports only hinted at the truth about Parsons' "religion", which was one of the tales Santmyer was attempting to quash. Perhaps the other rumor Santmyer was trying to spike, the rumor of Parsons' murder, also had a basis in fact.

Homer Nilmot had not sent me on a wild goose chase.

Theodore von Karman had said the FBI had questioned him about Jack Parsons. Clearly other investigations had gone on than just the one by the Pasadena police.

Parsons' death had sparked a lot of unusual attention accompanied by curious denials. It had all the hallmarks of "national security." The real investigation would be conducted outside the media (and public) spotlight.