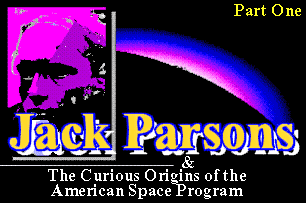 Part 1 - THE JACK PARSONSí MYSTERY

I first heard about Jack Parsons from a fellow named Homer Nilmot, back in Philadelphia, around 1987. That was the time of my aborted attempt to get out of stock broking and make a living as a private detective. I canít tell you who Homer Nilmot was, or what I did for him, but I can tell you what I found out about Jack Parsons. All the sources here are real. Look them up for yourself. But be forewarned that your view of how the world works may never be the same again. Mine hasnít been.

Homer Nilmot was holding the folder close to his chest, as though fearful I might make a grab for it. The label read "Pasadena".
"Mythological control," he said. "The myth makes the man. Lyndon Johnson used to say about that old windbag Hubert Humphrey, `Iíve got his pecker in my pocket.í Well you get hold their mixed-up little minds and youíve got their peckers and a lot more."
We were setting at an open air table at Downeyís at the end of South Street in Philadelphia. He had been rambling for an hour, feeling me out or perhaps just putting on a show. He would come to the point eventually.

I looked out across Front Street to the Delaware and the barge being towed up river. A jogger trotted past in the direction of the Ben Franklin Bridge.
"Them endorphin addicts canít ever get enough," he observed, nodding at the jogger.

"Howíd you vote, last election," he added as an afterthought.

"I voted for Clint Eastwood."

"We didnít find any record youíd registered." He enunciated "registered" carefully, with hardly a trace of Texas accent.

"Clint didnít run, last election."

"You a Republican, Democrat, Shi`ite on a Shingle, what?"
Fair enough. It was his money. He could ask what he wanted and I would prevaricate when necessary. I assumed he already knew the answers to the questions he was asking. He was just measuring my responses against what he already knew.
"Iím a Sunni in a Subaru," I said. "Iím a libertarian. I donít think itís any of the governmentís business how I spend my money or who I go to bed with. The first makes liberals apoplectic and the other raises self-righteous indignation in neo-conservatives. I say a pox on both their Houses." And yours, too, I thought.

"You gonna vote for Russell Means and Ron Paul?"
I played along.
"Gorbochev says heís a Democrat. It doesnít mean heíll carry Chicago. The Libertarian Party has about as much to do with libertarianism as the president of Coca Cola has to do with the cocaine trade. The connection is at best historical and etymological, and there are differences in marketing."

I added: "Of course some people who snort the one also like to drink the other. Anyway Means and Paul arenít running together--theyíre competitors, at least until the party caucus. Paul was a Republican until recently."

"And Means was an Injun," he said.

"On the other hand, anyone who calls the IRS `the Gestapoí has got my sympathetic attention."

He reflected on this. Then: "Ever hear of Jack Parsons?"

"Jack Parsons?"

"He and a feller named Theodore von Karman started the Jet Propulsion Laboratory in Pasadena. You know, those Jupiter probes and all that."

"Iíve heard of von Karman," I said. "If the data doesnít fit your theory, take logs; and if that doesnít work, take log logs, and then the data will fit any theory whatsoever."
Homer looked at me suspiciously.
"Just something I read in grad school," I said. "Von Karmen said that, according to Granger and Morgenstern in a book about stock market prices. What about Parsons?"

"Parsons died in the 50s. We want you to find out who killed him."

"Parsons was murdered?"

"It was alleged an accident. We have reason to think differently. Here are some clippings about the death. You can read them later."

"Could I ask why?" I asked, taking the envelope.

"Why he was murdered? Thatís what youíre to find out."

"Why youíre interested in Jack Parsons."

"Maybe later. Now itís best if you just look without any prejudice."
It was the summer of í87 and if the End was nigh, it was not nigh enough to notice. The Seven Years of Plenty were symbolized by Merrill Lynchís theriomorphic Sarapis. The country was high on money, congressional soap operas, and impending doom. The Apocalypse heralded by books like The Great Depression of 1990 and Blood in the Streets made all the sweeter the preceding spasm, the Twentieth Centuryís last great money-making opportunity. In accordance with Elliot Wave V, an exuberant public mood was lifting stock prices and womenís skirts.

Or at least thatís what I had said in my last report. It was a study for an investment bank on the correlation between stock market prices and trends in popular culture. A golden opportunity for theriomorphic bullshit.

I strolled up South Street on the way back to the office. The designer punk mirrored the cracks in the Zeitgeist. It was a rebellion of nostalgia. The Beatles, a bull market band, were back in vogue. Aging yuppies saw a new puberty, but now with cash to follow their noses. I had just read an article written for Rolling Stone by P.J. OíRourke, the famed author of "How to Drive Fast on Drugs While Getting Your Wing-Wang Squeezed and Not Spill Your Drink." He was sufficiently smitten by deja vu to recommend LSD: Let the Sixties Die. To an ontological detective like myself, it seemed he had nothing to fear. It was the death of the Eighties that worried me.

My office was located in a renovated girlís school on Christian Street. It was non-obtrusive, inexpensive, with plenty of room for files. Anyway I never met clients there. The electronic gate was intended to prevent car theft, but it kept visitors out too.

Sheri, my assistant, was reading a book. Sheri was a member of the Church of the SubGenius, and had a picture of "Bob", tacked to the wall behind her. Bob was smiling with his customary pipe clenched between his teeth. There was also a poster advertising "Gimme Slack," the recent hit single by Doktors for Bob. Sheri was devoted to frop, which she discreetly kept out of sight, in the lower left-hand desk drawer.
"Herm, listen to this," she said. "This was the most popular book in America before the American Revolution. Youíll enjoy this. Here is a description of some of those who get smashed by the Prince of Peace, when he returns one day, all unexpectedly."
She quoted:
Adulterers and Whoremongers
were there, with all unchast;
There Covetous and Ravenous,
that riches got too fast:
Who usíd vile ways themselves to raise
tíEstates and worldly wealth,
Oppression by or knavery,
by force, or fraud, or stealth.

"No corporate raiders in the Kingdom?" I asked.

"Nor much of anyone else," Sheri said. "Listen to these virtuous types:

Then were brought nigh a Company
of Civil honest Men,
That lovíd true dealing and hated stealing,
neíer wrongíd their Bretheren;
Who pleaded thus: "Thou knowest us
that we were blameless livers; ...

"Our way was fair, our dealing square,
we were no wasteful spenders,
No lewd toss-pots, no drunken sots,
no scandalous offenders."

"Sound like fine Philadelphians to me. Not your average lewd toss-pots. I would guess a Caribbean Island, a legion of angels, and a long vacation for each, not to mention blessedness and glory."

"Wrong, Hermes," she said. "They get cast into Hell along with the others. They had the wrong attitude. They were just noble because they wanted a reputation for virtue and honesty. It was all an ego trip."

"Hard man, that Jesus. If this was the most popular book around at the time of the Revolution, it makes you wonder how business ever became the business of America, much less how we arose out of the swamp to sign the Bill of Rights."

"The Founding Fathers were mostly Deists," Sheri said, shifting to professorial mode. "They didnít believe in this Godís Wrath nonsense. They thought religion was something naturally inborn, which made them oppose crimes committed in the name of God, Revelation, or the Church. Tom Jefferson and his free-thinking dinners. "

Sheri paused to grin at her own little speech. "Makes you proud to be an American," she laughed.
The book was entitled The Day of Doom: or, A Poetical Description of the Great and Last Judgment, with a Short Discourse About Eternity, by one Michael Wigglesworth of Harvard University. It was first published in 1662.
"It would seem Wigglesworth was playing the classic guilt game," I suggested. "If you cheat, your methods are evil; and if youíre honest, your attitude is evil. Everything you do is wrong. You are inherently defective and you had better do what the guru says."

"Yeah, these cults are all alike," Sheri said. "They want to wash your brain with a filthy Brillo pad. Speaking of which, two pink boys were here earlier. They wanted to ask you some questions. They looked like Xist Agents to me, but were dressed somewhat better than that."
Sheri called all government employees Xist Agents. "They got through the gate?" I asked. The only door to the office opened directly into the parking lot with its surrounding fence.
"They followed someone in. Or maybe they flew in by phantom helicopter. They could have been the three Men in Black, except there were only two of them. One of them was a fat little fellow. Greasy black hair, smooth talker. The other was medium build, skinny face, pasty, like he had just climbed out of a cemetery. I told them you had gone to New York on business, and would be back in a week. I didnít know what hotel. You never tell me anything. They left a number for you to call."
I took the phone number and went into my office. The first thing I wanted to do was read the clippings on Jack Parsons that Homer Nilmot had given me. I leaned back in my chair, put my feet on the desk, and looked out the window. The construction debris across the street didnít keep my attention for long, so I opened up the envelope.

The first article was from the late news edition of the Los Angeles Times, Wednesday, June 18, 1952. The banner headline on the front page read:
ROCKET SCIENTIST KILLED
IN PASADENA EXPLOSION

--------
Tragedy Drives His
Mother to Suicide
--------
Cripple Is
Helpless
Eyewitness


A brilliant Pasadena rocket propulsion expert met death in an explosion that ripped his garage laboratory yesterday and as a tragic aftermath his mother committed suicide by taking sleeping pills while an elderly crippled woman watched helplessly.

John W. Parsons, 31, former Caltech scientist and instructor and one of the founders of the schoolís famed Arroyo Seco jet propulsion laboratory, was killed when two explosions, which occurred almost simultaneously, demolished the laboratory on the grounds of the former Busch estate at 1071 S. Orange Grove Ave., Pasadena.

Parsonís mother, Mrs. Ruth Virginia Parsons, 58, of 21 W. Glenarm St., Pasadena, took 45 pills after she was notified of her sonís death at the Huntington Memorial Hospital about an hour after the explosion. The two women were in a home at 424 Arroyo Terrace, Pasadena, at the time.

Her elderly friend, Mrs. Helen Rowan, a cripple confined to a chair, saw the woman take the pills from a bottle left on a table after she had taken two capsules on order of a physician. Moments later, another friend, Mrs. Neilie Smith, a nurse, arrived at the home to console Mrs. Parsons in her bereavement. She found her slumped in a chair in the living room and Mrs. Rowan sitting helplessly nearby. Three pills were left in the bottle.

Mrs. Nedia Kibart, 59, of 320 Waverly Drive, Pasadena was in another room of the house at the time Mrs. Parsons took the bottle in her hands and began taking the capsules. The mother of the chemist had told Mrs. Kibart that she `couldnít stand it anymoreí and that she would `kill herself,í according to Pasadena Police Lt. John C. Elliot.

He said Mrs. Rowan lived with Mrs. Parsons at the W. Glenarm St. address.

Parsons was recognized as one of the foremost authorities on rocket propulsion since leaving Caltech in 1946. He had been employed as a consultant by many firms, his brother-in-law Robert Cameron, 28, of 125 N. Rampart Blvd., told newsmen. Parsons and Dr. Theodore Von Karmine had founded the Caltech jet laboratory in the Arroyo Seco.

The explosives expert was preparing for a trip to Mexico on a job assignment, the nature of which was very secretive, Cameron said. Parsons was last employed by the Burmite Powder Co. in Saugus.

Parsons was apparently packing bottled explosives in a box to take with him on the trip today when the explosion occurred. It was followed immediately by a second and larger explosion, setting off other explosives stored in the room, according to Lt. Elliot.

Remnants of bottles marked "Explosives!" were found on the floor. Walls, doors, partitions, the ceiling and floor of the garage were demolished and a bathtub was toppled over. The body of Parsons was found lying near the tub.

The death of Mrs. Parsons was reported at 9.06 p.m. almost four hours after the explosion shattered the made-over garage. Dr. J. H. Huntsman pronounced her dead. He had been summoned by Mrs. Smith, the nurse.

Four tenants residing in the building above the garage laboratory were uninjured but were routed from their apartments. Salvatori Ganci, an artist who occupies the unit directly above the laboratory, said the blast ripped a large hole in the floor and broke a leg of his grand piano.

Army ordinance experts from Ft. McArthur were called to the scene by Pasadena Police to inspect the debris and to determine the cause of the blast. They were also to inspect Parsonsí temporary residence at 424 Arroyo Seco, home of Mr. and Mrs. Frank Carpenter, who were out of town, for any additional explosives stored there.

The building which contained the garage was at one time a servants quarters for the estate and recently had been converted to a multiple unit.

The bodies of Parsons and his mother were taken to the Turner-Stevens Mortuary pending funeral arrangements.
I mentally reviewed what I had just read. Parsons was an expert on rocket propulsion. He was active during and immediately after the Second World War. He had had a position at Caltech and was a founder of the Jet Propulsion Laboratory. He had been working as a consultant for the Burmite Powder Co., according to his brother-in-law.

Brother-in-law. No quote from his wife. Where was she? Parsons was preparing to make a trip to Mexico. On a "secretive" job assignment. Parsons had stored explosives in his garage. Would an explosives expert do that? An explosion had killed Parsons and demolished the garage, but had not done major damage to the apartment above. The explosion had occurred in two parts. A small explosion had apparently ignited other explosives.

By some unknown sequence of events Parsons had been delivered to Huntington Memorial Hospital and had been pronounced dead. Parsons was unexpectedly young, only 31. Most of the article was about Parsons mother. She heard the news, took a bottle of sleeping pills, and died while a crippled friend watched. Both deaths had occurred Tuesday, June 17.

The article had been written hurriedly. Von Karmanís name was misspelled. There were no quotes from Parsonsí colleagues or employers. No quotes from CalTech or JPL or the Army Ordinance Experts.

The second clipping was the next dayís follow-up article, on Thursday, June 19. Parsonsí age had increased by six years, and "Burmite" had become Bermite.
Scientistís Fatal
Blast Explained

Police theorized last night that the explosion which took the life of John W. Parsons, 37-year old rocket and jet- propulsion expert, in his Pasadena laboratory Tuesday resulted from his dropping a can of fulminate of mercury.

Pasadena Police Chemist Don M. Harding, completing his examination of the remnants of the blast, said it was definitely established that the fulminate of mercury, a sensitive explosive used only as a detonator, was set off by a shock at floor level.

Harding said the quantity of fulminate of mercury could not be determined but he reported that the coffee can in which Parsons apparently was mixing the batch was shredded into shrapnel. There was a large quantity of other types of explosives in the laboratory, many of an experimental nature, Harding said.

Police said it had been reported that Parsons was manufacturing small quantities of the fulminate of mercury for commercial purposes.

The blast on the grounds of the former F. G. Crickshank estate at 1071 S. Orange Grove Ave., Pasadena, shattered the garage laboratory and inflicted injuries on Parsons that caused his death an hour later.

The scientistís mother, Mrs. Ruth Virginia Parsons, 58, of 21 W. Glenarm St., Pasadena, swallowed 45 sleeping pills and died after hearing of the tragedy.

Parsons was identified as one of the nationís leading authorities on explosives and jet propulsion. With five other original shareholders, he founded Aerojet Engineering Corp. in 1942, but sold out his interest three years later.

`He was a loner,í recalled T.E. Reehan, secretary- treasurer of Aerojet. `He liked to wander. But he was one of the top men in the field.í

Many of the basic patents for JATO (jet assisted take-off) were obtained under Parsonsí name. While a vice-president of Aerojet he headed the solid propellant development project. Associates said he was not known to have done any work on atomic power.

Parsons had been with the Bermite Powder Co. of Saugus for a year until last Friday, when he left intending to go to Mexico. There, he told associates, he intended to do further research with explosives and miniature special effects for motion pictures.

At the Saugus firm Parsons headed one of the rocket propellant detonation and pyrotechnic short interval delay projects, a confidential research and development project.

`He stayed until Friday to finish his project,í said J.H.Arnold, treasurer and superintendent of Bermite. `I tried to get him to stay for the tests, but he was anxious to get to Mexico. He had been working hard.í

Parsons was extremely safety conscious, Arnold said. He worked carefully, had a thorough knowledge of his job and was scrupulously neat, the superintendent recalled.

Arnold was surprised that Parsons had explosives in the small make-shift laboratory near his home--a violation of the Pasadena fire-ordinance. The superintendent said, however, that Parsons had a powder magazine near Rialto and six or eight months ago had planned to go into the dynamite business.

Harding said enough explosives remained in the laboratory to `blow up half the blockí.

The explosives had been stored there for six months or longer, police learned.

Examination of the blast scene disclosed that the explosion was concentrated in a small area. Apparently Parsons received the full, terrible force directly against his body. A hole was blown through the floor directly under the section upon which Parsons presumably was standing.

The blast broke windows in an adjoining estate, owned by W.W. Burris. Martin Foshaug, his mother, Mrs. Alta Foshaug, Sal Ganci, an artist, and Jo Anne Price, a model were on the second floor of the converted barn at the time of the explosion.

`Everything fell off the walls,í Ganci said. `The piano was knocked over, its leg broken. We were staggered.í

Ganci said he had expected `something to happení as a result of Parsonsí preoccupation with explosives. The chemist frequently warned neighbors that his experimental materials were unstable.

Harding was so skeptical of the chemicals left he shielded them from flash bulbs as photographers took pictures.
I skimmed some irrelevances. Then:
Parsons, it was disclosed, attained his eminence as an explosives expert principally by self-training. Born here, he was graduated from high school but took only two years of night study at SC.

Although Parsons had no formal degree he went from SC to Caltech as a research associate in astronautics and with Dr. Theodore von Karman founded the Caltech jet laboratory.

He was a member of the American Chemical Society, the Institute of Aeronautical Science, the Army Ordinance Association and Sigma Xi fraternity. He had refused a number of honorary degrees.
Well, anyway you looked at it, Parsons was a remarkable individual. He had become a research associate at Caltech without formal training, established himself as one of the foremost experts on jet propulsion, co-founded the Jet Propulsion Laboratory, and had also been a founder of Aerojet. He had made his own way from nowhere to the top of his field. It was not surprising to find he was a loner.

The newsmenís curiosity had been easily satisfied. There were many unanswered questions. Parsons was described by a co- worker as careful and scrupulously neat, yet he had stored explosives for six months in a building with four upstairs tenants. Was this uncharacteristic carelessness?

The four tenants who lived in the top floor of the converted garage/barn were apparently aware of Parsonsí laboratory below, yet were content to remain where they were. There were supposedly enough explosives left in the lab to `blow up half the block.í Was this just police hype? The blast that did occur managed to destroy the floor, ceiling, walls, and door of the lab without setting the other explosives off. There also was a conflict with the first article, in which a police lieutenant had described two explosions. Now, according to the second article, there was a single blast from the dropped fulminate of mercury.

Again there were no quotes from Parsonsí wife or colleagues at JPL or Caltech. Just brief comments from the company officials at Aerojet and Bermite. Where were the characteristic expressions of grief and admiration for a departed co-worker?

Why did Parsons need to go to Mexico to do further explosives research? What was special about Mexico? Or was the "trip" a cover story to account for time that would be spent elsewhere?

These questions were thirty-five years late. Homer Nilmot needed a professional historian, not a detective. But I had known that from the start, and it hadnít prevented me from taking the project. Necessity is the mother of pretension.

I went over to the sink in the corner of my office and poured some expresso beans into the coffee grinder. I put fresh water into the kettle and turned on the hot plate.

It felt good to have a client. Homer was my second. The first had enabled me to rent the office, such as it was.

Most of the wall space was covered with bookshelves. Filing cabinets filled the interior. It was a loose-leaf compendium of American fringe beliefs. The collection had started as a hobby, arising from a general preoccupation with what people believed and why they believed it. Political beliefs, scientific beliefs, religious beliefs, economic beliefs--these were now my stock in trade. Long ago I had come to the conclusion that the outliers in the data, the odd items that didnít appear to fit, were the ones that told the real story.

At the moment Sheri was in the outer office combing the ads in obscure publications in search of new material. I had hired her because she was already a walking encyclopedia in certain areas, and she seemed reasonably happy to do the job at not very much pay.

I ground the beans into a fine powder, dumped the black dust into the strainer, and poured in hot water. After a minute I pressed out the grounds, transferred the liquid to a mug labelled Personal Paradigms Inc., and added some half-and-half. When coffee-drinking had arrived in Europe in the seventeenth century, the Catholic Church had dubbed the black brew an evil drug. A prince of Waldeck offered ten thalers to anyone who denounced a coffee drinker. By contrast, Johann Sebastian Bach, the notorious drug pusher and author of the Coffee Cantata, had written: "Coffee, coffee, how I love its flavor, and if you would win my favor, yes! yes! let me have coffee, let me have my coffee strong." I was decidedly in the Bachian camp on this issue. Just Say No to weak coffee.

Under the influence of fresh caffeine, I turned to the last clipping. From the Los Angeles Times two days later, Saturday June 21:
Mystery Angel Enters
Scientist Death Blast
-----
Proberís Advance Belief `Someone Elseí
Handled Waste in Parsonsí Laboratory
-----
Evidence of the careless handling of dangerous explosive waste materials at the scene of last Tuesdayís fatal Pasadena explosion yesterday was described by a former associate as completely `out of characterí with the scientific background of John W. Parsons, 37, who was killed by the blast.

George W. Santmyers, Los Angeles chemical engineer associated with Parsons in a Naval Ordinance Department research project since Jan. 1 said that from the evidence gathered at the scene, 1071 S. Orange Grove Ave., he would conclude that `someone elseí had put quantities of explosive refuse into exposed trash and garbage containers in the rear of the Pasadena scientistís laboratory.

Don Harding, Pasadena police criminologist reported finding in the trash can six filter papers containing inflammable residue of fulminate of mercury. This is believed to have been the explosive that took Parsonsí life.

The cans, mixed with a content of beer tins and kitchen refuse, were nearly collected by Pasadena rubbish trucks. In addition to the filter papers, Harding also found some 500 grams of cordite, an ammunition compound.

`For Parsons to have disposed of such materials in that manner,í Santmyers said, `would be in the same category as a highly skilled surgeon to operate with dirty hands. And I knew Parsons as an exceptionally cautious and brilliant scientific researcher.í

The article went on to say that Parsons would not have tried to hastily dispose of such material at the last minute before his trip, nor would he carry such a hazardous primer in an automobile. Then:

At the time of his death, Parsons was definitely on the trail of a completely new explosive substance `far superior to any existing commercial blasting material,í Santmyers told police. . . .

Rumors that Parsons had been involved in mystic cults some years ago were discounted by Santmyers.
Curiouser and curiouser. If Parsons was involved in classified work, it would explain some of the information gaps in the first reports. Facts would be withheld because government secrets were involved.

It could also be a PR job. If Parsons had embarrassed the government and his colleagues by sloppy handling of explosives, the introduction of a `mystery angelí would allow government personnel to save face and maintain the image of scientific impeccability. And the story would hold up if federal investigators had squeezed out the Pasadena police under the guise of official secrecy.

On the other hand, Homer Nilmot thought Parsons had been murdered. Who would have had a motive to kill Parsons? I knew where to start and why Homer had hired me.

I re-read the last line. Rumors of mystic cults discounted. Right. I called Sheri.
"We have anything on Jack Parsons? He was a jet propulsion expert in Pasadena who was killed in an explosion in his garage laboratory in the early 50s. He was a member of some cult or another."

Sheri thought for a moment. "He was a member of Aleister Crowleyís Ordo Templi Orientis. I donít know anything about him, but I have definitely heard or read the name in that connection."
Crowley. I knew a little about Aleister Crowley. He was an English occultist and magician. A Cambridge graduate. He had claimed to put magic on a scientific basis. This was magic in the anthropological sense, not in the stage show sense. Real Magick. He spelled it with a k, magick. I recalled that he also been given a channeled revelation, The Book of the Law, in the early part of the century. Some journalist had called him the "wickedest man alive". That had been a piece of journalistic sensationalism, as I recalled, but Crowley was certainly controversial. It would be enough to make Santmyers discount rumors of Parsonsí involvement in mystic cults.
"Hereís what we need," I told Sheri. "We need anything we have on Crowley that might tell what was going on in California, particularly Pasadena. We also need other sources of information on Parsons. Go over to the University of Penn library and see if you can find anything on the history of the Jet Propulsion Laboratory or early rocket research at Cal Tech. Look up material on von Karman--there ought to be some references to Parsons.

"Also," I added, "we want to find out if Crowley had any involvement with intelligence organizations. I doubt that Homer Nilmot is paying money just out of intellectual curiosity about the early history of rocketry."
After Sheri had left, on impulse I pulled out the Encyclopedia Britannica and looked up Aleister Crowley. There was a two-word entry. "20th-century satanist," it said. Well. You could always count on the Encyclopedia Britannica for in-depth research and scholarly impartiality. Satanism (whatever that was) was a standard term of abuse applied by certain groups to anyone who disagreed with their religious beliefs. Some Protestants called Catholics satanists. Some Catholics called Masons satanists. Some termed satanic the adherents of the Moon Goddess or of other nature religions. The encyclopedia might as well have described Jesus as a "1st century blasphemer" based on the gossip of the Sanhedrin.

Or maybe Crowley was really some sort of satanist. In Philadelphia satanists were rebellious teenagers from religious homes, who tattooed "666" on their bodies and sacrificed small animals. Which reminded me of the two Men in Black.

I looked at the phone number left behind by Sheriís afternoon visitors. It was Center City. When I punched in the number, I heard a ring, a click, then a further ring with a different tone. Then the line went dead.

I hung up and took a sip of coffee. The phone rang.
"Personal Paradigms," I answered.

"We know," a voice said. "Good afternoon, Mr. Paradigms," said a second voice.

"May I help you?"

"Yes," said the first voice. "Oh, thatís very good. He wants to help us," said the second.

The first voice continued: "We understand you are interested in Jack Parsons, Mr. Paradigms. Is this true?"

"Not at all," I said.

"Thatís good. Thatís very good," said the second voice.

"Jack Parsons was the cause of much trouble for a lot of people recently, Mr. Paradigms. But itís settled down now. We wouldnít want anyone mixing the pot."

"Stirring the cauldron," the second voice corrected. "Rejuvenating the remains. Roiling the ruckus."

"Why do you care?" I asked.

"We care."

"We are very caring people," the second voice said.

"Who do you work for?"

"Letís just say we work for the government." Voice No. 1.

"We represent a government agency." Voice No. 2.

"You will not have heard of us. We keep a low profile." No. 1.

Laughter. No. 2: "Thatís very good. We keep a low profile with our high foreheads." More laughter.
The line went dead.

I took another sip of coffee.

---

Leaving the office, Sheri was a blur of motion. She always felt that if she could only move fast enough, the world would spin out behind her like a treadmill. She had the key in the switch of the Volvo while still closing the door with her left hand, started the electronic gate on its ponderous rise while sliding out of the parking space in a deft parabola, then shot through the opening with barely an inch to spare. She turned right in the direction of Lombard.

Holy Crowley schmowley. She checked her watch. It was 2:32. She decided she would stop at Harvest, by the Stock Exchange, on her way over to campus. Frank would likely be there in a few minutes. Like some of the other foreign currency options traders, he liked to pop up for a beer right after the close. Frank had told her about a psych professor he had had who was into Crowley.

From 22nd Street Sheri cut back down Market toward the Exchange and slid into a parkplatz on the street as a car pulled out. The driver in a second car waiting to back into the same space stuck his head out the window. "You bitch!" he yelled. Sheri flashed him a smile as she put a quarter in the meter. She entered the Exchange building on the 20th Street side, walked through the atrium past the Exchange entrance, and into Harvest.

Frank wasnít there, so she sat down and ordered two beers. She was nearly finished with hers before Frank came in with some other traders. Sheri waved him over.
"Ola, mi chulo. Your beer is waiting. I see you can use one. Tell me about it."

"I was getting blown out of the water all day by the Swiss franc." Frank took a seat and downed half the beer.

"In the morning I was delta neutral, fully hedged you know, intending just to buy and sell a few and suck out the spread. But then the Swiss started to rally. It ran up a hundred points and I was sitting on negative gamma so I kept buying spot to stay hedged. I was losing money all the way up. And then it turned around and dropped two hundred points. My position kept getting longer the more it dropped, so now I had to sell back in the interbank market all the spot I had just bought, at a position loss at that because you couldnít keep the option prices in line. Everyone was yelling and shoving and I had a splitting headache. I went back in the restroom for some energy, but I was so shook up I spilled most of the coke on the floor. I wasnít gone more than a few minutes, but when I came back the Swiss had rallied almost seven-five points, and Kinsky was yelling at me where the fuck had I been. We took a good hit and he acts like firing me. And the Swissie closed unchanged.

"It wasnít a good day," he concluded.

Sheri nodded sympathetically. "Negative gamma can do that to you." She wondered what it was.

"You can say that again," Frank agreed. He was off in his own world, staring out at pedestrians on 19th.

She leaned forward and ran her fingers lightly along the inside of his left thigh. "Been getting any lately, Frank?"

"What?" His eyes swung to her and jerked abruptly back into focus.

"Remind me who that psychology professor was you had at Penn. The one who you said was into occult and magical groups."

"Wilson. David Wilson. Yeah. What about him?"

"You were telling me about an exchange in class one day. He was talking about Aleister Crowley."

"Crowley. Yeah. Wilson gave us a reading assignment in this book about the psychology of possession. I think it was saying that people, like holy rollers, who go into a trance and speak in tongues, or you know voodoo rituals that use music and drugs, or people who have certain terrifying experiences in war. There was a common psychology in all these."

"The psychology of sex, drugs, and rock-and-roll?"

"Something like that, I guess. Anyway one day he was talking about Crowley. I think he knew some students on campus who thought Crowley was hot shit. Crowley said something about doing your own thing ... "

"Do what thou wilt shall be the whole of the law," Sheri prompted.

"Yeah. He was saying they seemed to think it meant doing whatever the hell they wanted to."

"What did he think it meant?"

"He said Crowley meant you should find the one thing you really wanted to do in life, and to do that. Find your true will. Donít try to be a frigging accountant when youíre really a guitar player at heart. There was this guy that was asking him a number of hostile questions. Someone told me after class that he--this guy--was a member of a magical group. I donít really know if he was or not."

Frank looked out the window. Once again lost in thought.

"Thanks, Frank. Got to go. Listen, call me some time. Weíve got to stop meeting like this."

"Yeah." He turned momentarily to watch her leave. Strange girl, he thought, but fun. Sort of like foreign currency options. The puzzle was half the pleasure.
---

Sheri returned around six with a few items from the library. She said there was a psychology professor at Penn named David Wilson who had the reputation of being something of a Crowley expert.

I called his office but he had left for the day. I decided to do the same.

On the way out I picked up The Day of Doom from Sheriís desk and paged through it. It was filled with family values:
"The godly Wife conceives no grief,
nor can she shed a tear
For the sad state of her dear Mate,
when she his doom doth hear. . . .

The pious Father had now much rather
his graceless Son should lie
In Hell with Devils, for all his evils,
burning eternally,
Than God most High should injury
by sparing him sustain;
And doth rejoice to hear Christís voice,
adjudging him to pain."

"Damned sinners deserve no pity," I said to Sheri.

"Amnesty International canít help you in Hell," she replied.