U.S.C.G.C. Northwind (WAG-282)

Central Group
Capt. Charles W. Thomas, USCG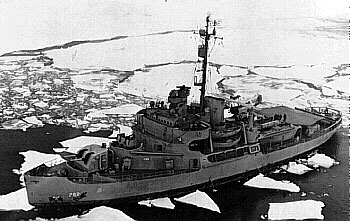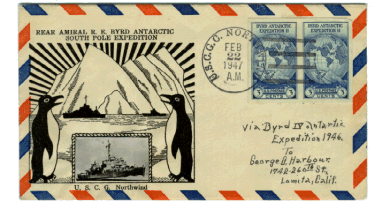 Crosby Cachet



| | |
| --- | --- |
| 2 DEC 46 | Departed Norfolk, VA. |
| 10 DEC 46 | Departed Balboa, Canal Zone. |
| 30 DEC 46 | Rendezvoused with other Central Group ships near Scott Island. |
| 31 DEC 46 | CTF (Commander Task Force) 68 shifted his flag to Northwind and the convoy headed south along the 180th meridian. |
| 1 JAN 47 | Proceeded south along the 180th meridian breaking passage for the Central Group ships through the pack ice. |
| 5 JAN 47 | Had to tow USS Sennet back to vicinity of Scott Island due to damage sustained by this submarine. |
| 6 JAN 47 | Rejoined the Central Group ships and proceeded southwestward to 70°S, 178°W. |
| 14 JAN 47 | Reached open waters of the Ross Sea and CTF 68 shifted his flag back to the USS Mount Olympus. |
| 15 JAN 47 | Reached the Bay of Whales. |
| 18 JAN 47 | Completed breaking out a harbor in the Bay of Whales. |
| 20 JAN 47 | Departed Bay of Whales carrying the first and only outbound mail from the Central Group ships. |
| 25 JAN 47 | Rendezvoused near Scott Island with USS Philippine Sea, USS Sennet, USS Brownson and USS Cacapon. |
| 27 JAN 47 | Transferred mail to the USS Philippine Sea and picked up mail for the Central Group ships and Little America. |
| 28 JAN 47 | At 2400 hours ship was on station in pack ice midway between the Philippine Sea and Little America acting as rescue and weather station for the R4D flights through the 30th. |
| 31 JAN 47 | Moored at the Bay of Whales. |
| 6 FEB 47 | Escorted Central Group ships northward through pack ice and CTF 68 shifted flag to the Northwind. |
| 8 FEB 47 | Contacted USS Burton Island in the south edge of pack ice. |
| 11 FEB 47 | USS Merrick lost her rudder and was taken in tow by the Northwind. |
| 13 FEB 47 | Departed vicinity of Scott Island with USS Yancey and USS Merrick in tow. |
| 22 FEB 47 | Arrived New Zealand at Port Chalmers. |
| 23 FEB 47 | Set course for Ross Sea to assist the USS Burton Island if necessary. |
| 5 MAR 47 | Rendezvoused with USS Mount Olympus and USS Burton Island after visiting the Antipodes to capture penguins. |
| 7 MAR 47 | Arrived Wellington, New Zealand. |
| 14 MAR 47 | Departed Wellington, N.Z. with USS Mount Olympus and USS Burton Island. |
| 6 APR 47 | Arrived at Seattle, Washington. |
Figure 1








Figure 2

Figure 3

Figure 4



Figure 5
Most USCGC Northwind covers bear the four-bar hand cancel with serif type letters (figure 1), although the ship's World War II double-circle branch number (16021) cancel is found occasionally on early mail (figure 2).
The USCGC NORTHWIND was the only U.S. Coast Guard vessel associated with Operation Highjump and was the only ice breaker available until the arrival of the USS BURTON ISLAND in early February, 1947. The Northwind was a veritable workhorse.
Many covers from this ship can be found with a three-line rubber stamp return address (figure 3). Much less common, but still known on more than one piece of mail, would be the 'homemade' hand-stamp 'Mailed At / Little America' (figure 4), presumably made up by one of the crewmembers.
A few covers are known signed and annotated by the Northwind's commanding officer, Capt. Charles W. Thomas, USCG (figure 5). Those seen by this writer were canceled on January 15, 1947, the date of arrival at the Bay of Whales, but other dates may exist.
The USCGC NORTHWIND was decommissioned on January 20, 1989, at the Coast Guard Moorings on Water Street at Wilmington, North Carolina.
The USCGC NORTHWIND was the last of the "Wind" class ice breakers to go out of service.